By: Jessica Grose
Listening to some of the consciously glam songs off the Golden Republic's self-titled debut, one might picture a group of well-coiffed Brits wearing sparkly spandex jumpsuits. Despite their glam rock influences, the Golden Republic are actually a bunch of sweet, corn-fed Midwestern boys in old t-shirts who can't wait to get back to Kansas City, Missouri, for the holidays. Spin caught up with lead singer Ben Grimes at the tail end of the Golden Republic's nationwide tour to talk about young love, T.Rex, and kissing cousins.
SPIN: How's the tour going?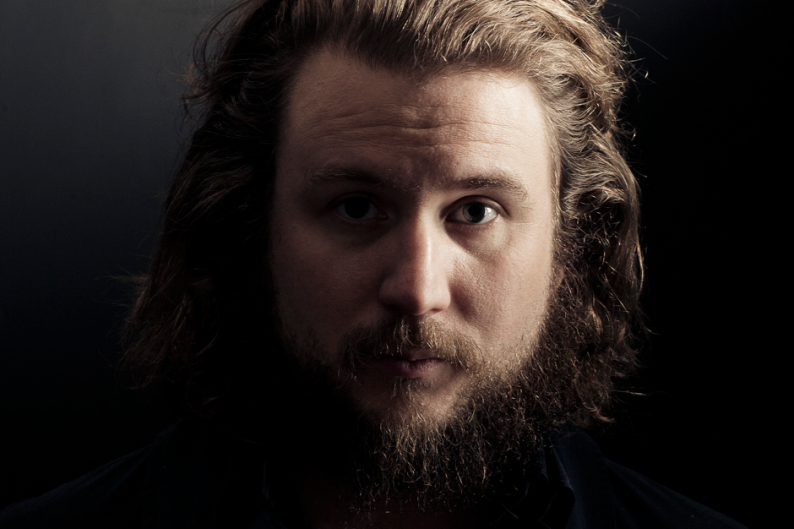 Ben Grimes: It's going very well. It's two in the afternoon here, but it's morning for me, and I'm having one of the nicest mornings of the tour.
SPIN: Are you still going to be touring with Sondre Lerche?
Grimes: I think the next couple of tours we do will probably be with somebody else. Stylistically, it's an odd match to go out with Sondre, though ideologically I think that we're very similar. It's been a total treat to go on tour with the guy and if the opportunity presented itself I'm sure we'd do it again, because we all had a blast. We went on tour with Nada Surf before and that was a really great opportunity too.
SPIN: I saw you guys perform at the Bowery Ballroom with Sondre and I found your banter really interesting. Being from the Midwest seems to really play a big role in your music and your identity as a band.
Grimes: Yeah, I'd say we're very laid back, very Midwestern. Be it good or bad, that has a major effect on how we approach the band.
SPIN: Looking at the cover art of the album and listening to your songs it seems like you're very into this '70s and '80s, coming-of-age motif.
Grimes: My brothers were kind of the people who I looked up to in the '80s and they were into the Brat Pack, and while I was a little too young for the Brat Pack, it made an impact on me. I was totally into the whole idea of lost youth. I'm in my mid '20s now and I still feel like such a kid.
SPIN: Speaking of lost youth, I found the cover image on your album really arresting. It's a Joe Szabo photograph of two teenagers kissing on the sidewalk outside of their suburban high school.
Grimes: That photograph really seemed to capture a lot of what we felt in writing the songs. That young passion. At the same time, that photo also feels very lonely to me because they're off on this street corner. The kids are sitting on the curb behind them smoking cigarettes. It kind of reminded me of when I was a kid, just hanging out back behind the school building.
SPIN: You started the band with your cousin (drummer Ryan Shank). How is it to have a family member in the band? I always think of Kim and Kelly Deal and how tumultuous their relationship is. Is it difficult to have a bandmate who is also a blood relation?
Grimes: I think having my cousin in the band has made it a lot easier. There's a lot of natural chemistry that being friends from youth can only provide. We're way too similar to really even be reasonable, but for some reason that's made it such that we really don't fight much at all.
SPIN: Where does the band's name come from?
Grimes: We were originally called the People, but that was taken. So we had a [band name] contest, and it's actually a mishmash of two names that were submitted: the Golden Band, which was a little too pretentious, and the Republic Tigers, which was a little too hipster-something, I don't know. I don't like the tiger thing. A lot of bands keep doing the tiger thing. I mean, there's Le Tigre, you know.
SPIN: I think it's really interesting that you would ask your fans. Did you start out with a fan base in Kansas City?
Grimes: We started the band in Springfield, Missouri, which was a good out-of-the-way place to start a band and sort of find our legs a little bit. The first year of a band is always so awkward and so stupid it's always [makes for] a bad impression during the first six months, but once we moved to Kansas City we built up a small, but very supportive fan base really quick. People there are totally our cheerleaders, very supportive.
SPIN: How are you feeling about the release of your first album?
Grimes: I'm actually kind of anxious to get it out and done with. We have two months off before the release of the full length, and we're going to try to write as much new stuff as possible before we get home. The idea is to write three full albums of stuff when we get home, idealists that we are, but I doubt that's going to happen. I think every time I sit down to write songs I kind of just write T. Rex songs– Electric Warrior was the record that taught me how to write. [Our music morphed into a] kind of glam rock without the trappings. I also love the Talking Heads. If I could write one Talking Heads album in my lifetime, I'd be very happy. We all write together, though. You have to swallow your ego sometimes. Everyone wants to do what they naturally do, but when you come together it generally turns out better.