Deficit Disorder – Vice Magazine Benefit for Downtown for Democracy
July 16, 2004
Volume, Brooklyn

Who knew political events could feature speed metal bands, bizarre and explicit photographs, and an ogre-masked M.C.? Gathering in a refurbished warehouse now known as Volume, a musically and politically in-the-know crowd came out to pay their dues to both. Curated by Vice Magazine editor Jesse Pearson, Deficit Disorder proved the two need not be mutually exclusive. The event supported Downtown for Democracy, a political action committee that encourages participation among artists who might otherwise shy away from politics. But today, everyone from Coldplay to Michael Moore is using their art to influence and inspire voters in 2004. At Volume, so too did artists as diverse as PG Six (singer-songwriter balladry), Early Man (early Metallica metal), Anomanon (Neil Young stage-filling folk-rock), Branca/Bloor (create-a-guitar noise) and Battletorn (screaming thrash). Ten bands in total played 10-minute sets each. It was a great way to see this rising tide of new talent without drowning in it.
After playing bass in Silver Jews and Rites of Spring, Mike Fellows emerged from the sideman shadows as Mighty Flashlight, playing every instrument on the band's 2002 self-titled debut. Performing with a backing band this evening, Fellows hid behind a scraggly beard and an FBI hat. From far stage right, he displayed a Conor Oberst-like earnestness with his vibrato-drenched vocals. Soloing sweetly over his steely-edged country-blues ballads, the Mighty Flashlight deserved to under the spotlight.
Blood on the Wall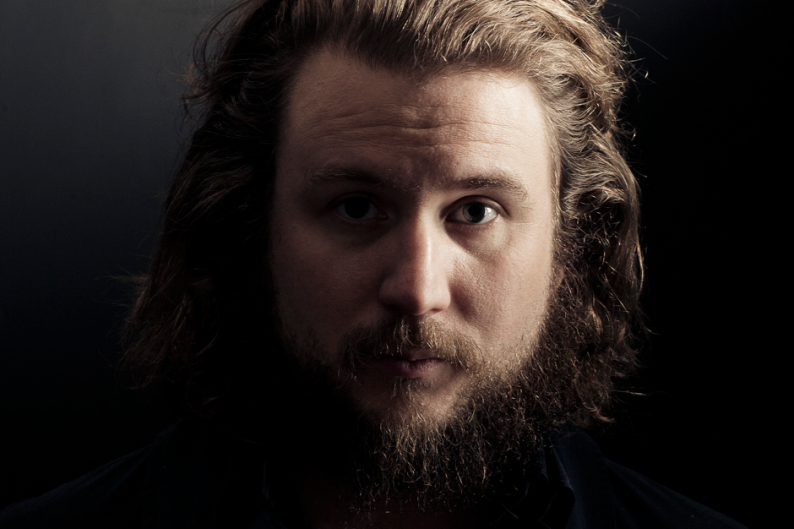 Beginning their set with a 30-second blast of Melvins freak-out punk, Vice darlings Blood on the Wall settled into the gritty blues-funk groove of Alabama's Immortal Lee County Killers. Even when Courtney Shanks' vocals weren't coming through the speakers, her band's boot-stomping fury was.
Among Natives
Superfluous tambourine playing aside, Among Natives' Indian-fused melodies, overlapping Afro-Latin rhythms and chaotic harmonies were almost enough to convince the audience that "native" didn't mean "Brooklyn."
Rogers Sisters
Rogers Sisters drew a few boos when they violated the ten-minute set rule and played "one more for democracy," but even the hecklers caved in to the addictive staccato pop of their unsolicited encore: the infectiously bass-walking "Zero Point" off 2002's Purely Evil (Troubleman). In a "Love Shack" pairing made in heaven, bassist Miyuki Furtado exchanged his new-wave vibrato-howl with guitarist Jennifer Rogers' catty croons. Even Roger Sister Laura added some wails to the fray from behind her drum set.
The Unicorns
Special guests the Unicorns made it known immediately that they were neither from Brooklyn nor anywhere else in the U.S., thank-you-very-much, when they took the stage at nearly two A.M. Succeeding in getting a small rise out of the dwindling crowd, the Canadian trio issued insolent comments like, "FYI, Kerry is the same as Bush," "Being from Canada, we don't care," and, "So are you guys coked up yet?" After pretending to tune up for the first half of their set, the "performance" artists launched into a condensed version of "I was Born (a Unicorn)" that included a drum solo. But these guys get off on knowing that no matter how much you hate them, you still can't help but love their music. Flaming Lips fuzz keyboards, quivering erotic harmonies, and ADD-addled song shifts all made their party fouls forgettable–at least for a good ten minutes.