Back in the SUV, we're pulling up to 55-59 Chrystie Street, a downtown New York City building next to a cooking-supplies store. In 1983, Yauch and Diamond lived in a room now labeled APARTMENT 15, which also doubled as the trio's practice space. Today, the building looks innocuous, but they say it was once rife with illicit activity and vermin.
"The unique thing about that loft was that part of the floor was actually blacktop," says Yauch. "It wasn't concrete — it was like the blacktop on the street. I know that must seem like a lie, because I've never seen anything like that anywhere else." Yauch recalls the rent being $800 a month, which almost makes Diamond mad. "We were paying $800 a month for that shithole?" Walking up the stairs, Yauch tells a story about how the landlord, who they'd heard also ran a massage parlor/brothel and a fortune-cookie factory out of the same building, offered them women and fruit to offset their inexplicably massive electric bill (they demanded money instead). He relates another story about how they crashed the building's elevator by filling it with amplifiers.
"We were only here for a year, but it was a formative year," says Yauch, 39. I ask what they feel when they recall their days on Chrystie Street. "Nostalgia and pride," Diamond says.
But that's not how they feel about the songs they wrote when living in this place. It's impossible to avoid the dichotomy between who the Beastie Boys used to be and who they are, and it's a subject they'd prefer not to discuss. In 2004, the Beastie Boys are among the most politically progressive pop acts in the world, and this is always going to be fascinating when one considers that they used to rap about violating underage girls with playground equipment (on "Paul Revere"): "The Sheriff is after me for what I did to his daughter /1 did it like this /1 did it like that /1 did it with a Wiffle-ball bat."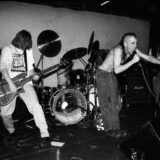 "Well, of course that line would make any of us cringe now," says Diamond, 38. "It's tricky, because when you say [those lyrics] now, it's easy to take them out of context, and it's easy for me to say, 'Ah, that's fucked up.' But I don't want to come off as defensive. Fuck it, that was our sense of humor at the time, and that's where we were at. That said, it's not like we were going out on the town with Wiffle-ball bats. A song like 'Fight for Your Right to Party' was the most ridiculous notion we could put forward at the time. We were dead serious about it being a joke, but the public just took it as us being dead serious."
Certainly, some of what the '86 Beastie Boys said can be dismissed as youthful, bad-joke indiscretion. Everybody says stupid shit when they're 19, but most people don't have artifacts inside every Virgin Megastore to remind them of it. Licensed to Ill has sold almost ten million copies, and there is nothing the Beasties can do to stop the album from being perceived as their definitive work. Yauch compares the record to an old, slightly embarrassing snapshot of yourself. At the time, they were creating a caricature of what they thought was funny: snotty white-trash brats who drank beer, smoked angel dust, and made fun of girls. Before Licensed to Ill was released, Yauch had been a straight-edge Minor Threat fan who didn't drink or smoke dope. He says the obnoxious hooligan he played in the video for "No Sleep Till Brooklyn" was just indicative of a phase he was going through.
It's possible that Yauch has come full circle, but it's just as possible that the group's interests are always going to be transitory. Despite the kinetic goofiness of the single "Ch-Check It Out," To the 5 Boroughs is without question the most political record the Beastie Boys have ever made. Did it give Capitol Records pause? "I never feel like it's my place to censor artists," says Andy Slater, Capitol president and CEO (and the Beasties' manager during the Paul's Boutique era). "But at the same time, [this record] doesn't seem overtly leftist to me. There's still some playfulness. It's not like Rage Against the Machine."
On the track "It Takes Time to Build," Yauch asserts, "We've got a president we didn't elect / The Kyoto treaty he decided to neglect." It's safe to say many fans won't grasp such a reference (i.e., George W. Bush's rejection of an international environmental agreement he viewed as detrimental to the domestic economy). However, most of the album's lyrics are not as sophisticated. At one point, the Beasties insist, "Never again should we use the A-Bomb," which is almost like protesting the use of catapults and boiling oil. It's obvious that they hate the war against Iraq and America's military influence on foreign nations. What's less obvious is how much they've really thought about these issues.
"Part of [this album] is what we're feeling and part of it is hoping that it will affect the political process," says Yauch, drinking a mug of tea in the studio. "I think Bush is terrifying. The guy is a lunatic. We'd be hard-pressed to find somebody worse to put in there. Maybe Adolf Hitler."
This statement makes me wonder how much Adam Yauch really knows about Adolf Hitler.
Certainly, the degree of political engagement differs from one member to the next. "What do you mean when you ask how politically engaged I am?" Horovitz says. "Does that mean I'm at political functions and out campaigning for people? Or does that mean that I'm in a the park with my friends, talking about how fucked George Bush is? I guess I'm in the category of talking to my friends about how fucked George Bush is, and how sexism is fucked in society, and how racism is fucked in society. That's how politically engaged I am."
Actually, that's a very accurate answer to the question. Similarly, To the 5 Boroughs expresses murky personal emotions rather than hard political opinions. The record's centerpiece is a song called "An Open Letter to NYC," set against a sample of the Dead Boys' 1977 punk anthem "Sonic Reducer." Filled with random shout-outs to New York's boroughs and subways (which are mirrored by the record jacket's artwork), it's a tribute to a city still recovering from the attack on the World Trade Center almost three years ago. Yet when I ask Horovitz what he remembers about the morning of September H, he gives a strange answer.
"I couldn't get coffee," he says stoically. "We didn't have any coffee. I kept trying to go up the block to the coffee place, and every time I'd go, a fucking plane would hit the building. And then I'd try to get coffee later, and a building would fall down. And it was just like everybody in the neighborhood was crying and screaming. It was fucking crazy."
We're back in the Navigator, driving past a place that was once the A7 club (and is now the bar Niagara), where the Beasties used to see Bad Brains perform. We pass their all-time favorite record store (the now-defunct Ratcage) and head toward the corner of Ludlow and Rivington streets, the Manhattan intersection where the Paul's Boutique cover was photographed. The Beasties are all getting a bit nostalgic, a common feeling lately. (The hometown boys have even been hatching a plan to play surprise concerts in all five of the city's boroughs on the same day; a helicopter may be employed as transportation.)
"Okay, Grandpa is going to tell a story," Horovitz begins. He's talking about Save the Robots, an early-'80s, East Village after-hours club that illegally served drinks to hipsters past 4 a.m. "This is about how the Butthole Surfers saved my life," Horovitz continues. "Me and [ex-Beasties producer] Rick Rubin were coming back from Save the Robots. This was, like, 1984. Earlier that night, we had seen the Butthole Surfers play at the Ritz, but now we were walking home at six or seven in the morning. Nobody is on the street. Suddenly, I see these two kids creeping up on us, and one of them has this huge knife. I'm like, 'Oh no, this is it.' But right when they're behind us, the Butthole Surfers pull up in this huge car, and there's like ten people in this two-door car, and [Butthole vocalist] Gibby Haynes is driving. And he's like, 'Get in.' So that's how the Butthole Surfers saved my life."
Much like the tale of the dog who bit him twice, the beginning of this story is more engrossing than the ending — it's a little anticlimactic. It's up to the Beastie Boys to make sure that this isn't the case with their career. How people will respond to their continuing maturation remains to be seen. The Beasties don't seem the least bit worried, but maybe they should be. Has this 20-year inside joke overextended itself?
"I don't think any one of us thought it would last this long," Yauch says, half-smiling. "If we had, I don't think we would have called ourselves the Beastie Boys."
But they did, and they are. And we'll all just have to see how that works out.
This story originally ran in the July 2004 issue of SPIN.