By: Kathryn McGrath
For someone who's often characterized as melancholy and whose acoustic solo work showcases a seemingly troubled soul, Kristin Hersh, founder of indie-rock stalwarts the Throwing Muses, laughs a lot. "I don't know why I'm so surprised about having so much fun," she says. Hersh has just driven cross-country under conditions that might make others blanche: Accompanied by her three youngest children (ages one, seven and 12), husband, several family pets and two band mates, Hersh plans to play 100 dates this year, logging a lot of miles with the mobile menagerie to promote her new band 50 Foot Wave.
With former Muse bassist Bernard Georges on tap, 50 Foot Wave might initially seem like yet another incarnation of the seminal college rock band. But after listening to their self-titled six-song debut that combines Hersh's intensity with surf-rock riffs, it becomes clear that 50 Foot Wave is, as Hersh claims, a "brand new band." Drummer Rob Ahlers of the L.A.-based Third Grade Teacher rounds out the trio with what Hersh calls his "racing down the stairs aesthetic," and all three members share song-writing credits on the album–a first for Hersh.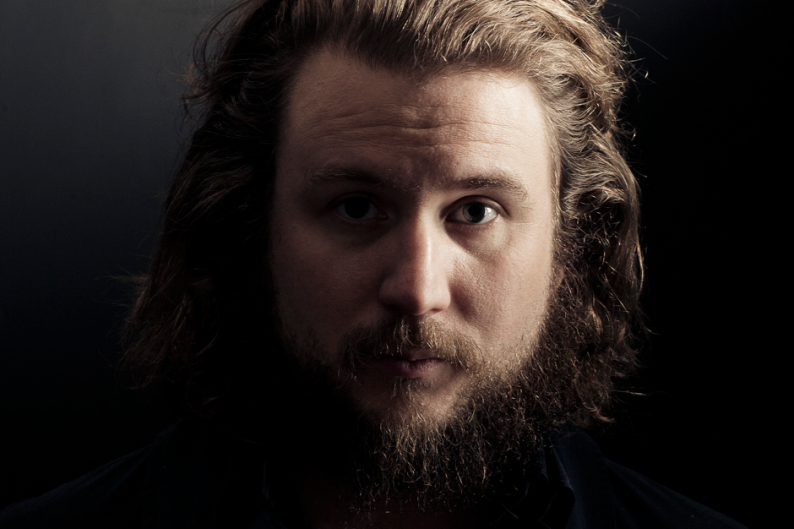 "I didn't want anyone to come to this sound with a preconceived notion of moodiness or kookiness or artiness or whatever they thought I did," Hersh says. But Hersh's reputation as an introspective solo artist precedes her. When Hersh formed the Muses at age 16 with her stepsister Tanya Donelly, their paired vocals, jangly guitar and radical shifts in tempo sounded unlike anything on modern rock radio. After nine Muses releases and six solo albums, 50 Foot Wave marks a return to Hersh's rock roots.
At a recent show in New York, an audience of aging fans started to jump around to "Clara Bow" with its chorus of "With sunburned lips I can bitch about another stupid summer," while a pig-tailed girl pogoed in the middle of the room. Hersh stood at the microphone, her Gibson slung low, and started fixedly at the back of the room as she wailed, "Bones were made to be broken." The only time she seemed relaxed onstage was when she grinned over her shoulder at Ahlers and Georges. "I'm just as shy as I ever was," Hersh says. "But this is such a celebration that I have no reason to run away from what I'm doing. This band backs up any kind of attitude with so much muscle that it's hard to feel any vulnerability or fragility. There's a lot of math in it but there's nothing emotionally tangled or even musically tangled about it."
In the early '90s, the Throwing Muses were staples of college rock alongside another Boston band, the Pixies. "Dizzy" received regular airplay on modern rock radio and became the closest thing the Throwing Muses ever had to a mainstream hit, prompting Sire, then a division of Warner, to sign the band. But Hersh remembers the recording sessions that followed for The Real Ramona, released in 1991, with horror. "We were working with producers, being pushed and pulled this way and that. I didn't care anymore I had no idea why I had ever involved myself in such a terrible process and I couldn't see the end or the means, none of it made any sense." Following the unexpected success of the Breeders, her side project with Pixies' bassist Kim Deal, Donelly was no longer content to write a song or two on each Muses album and struck out on her own, forming Belly. The resulting album, Star sold more than 500,000 copies.
Hersh launched a solo career in 1994 with the largely acoustic Hips & Makers. Her voice added an edge to the introspective, haunting songs. The somber album outsold any Muses release and although they recorded two more albums, by1997 the band was put on hiatus for what Hersh says were purely financial reasons. The Throwing Muses reunited briefly a few years later to play at a picnic for fans, dubbed the Gut Pageant. For the first time in nearly a decade, Donelly joined the Muses to play a few songs. The following year they recorded a self-titled album in just a few weekends and the band took to the road. "It was a wonderful recording experience and it was an incredible tour," Hersh says. "I would hate to think we would never play those songs again. But if that has to be the period at the end of the sentence, it's more of an exclamation point — that's great. I can live with that."
Hersh learned some valuable lessons from her experiences at labels big and small over the years. 50 Foot Wave marks not only a departure from her solo work but also from the music industry's generic model of success. The band plans to self-release a six-song mini-album every nine months on Throwing Music, Hersh's label, and tour extensively. "It was the only way we could be a band," Hersh says matter-of-factly. "I watched the Muses not be able to survive because of money which was absolutely heartbreaking." Like many indie acts Hersh has harsh words for the music industry: "With Clear Channel and the fact that you have to pay to get played on the radio, people in the music industry are so afraid of losing their jobs that they won't take chances turning promotional money over to real bands rather than flash-in-the-pan radio hits."
Hersh believes the Internet offers salvation to independent artists and ordinary people who want to hear 'real' music, as she calls it. "There's a huge, untapped audience of listeners who actually believe in quality — who ask to be moved by music instead of having their ears filled with syrup. And the Internet is a good place for those listeners," she says. The band's site woos fans with subscription services, events and downloads of new and live material. "We said from the onset, 'You don't have to buy CDs, we're into music sharing. If you can't afford it then you need it more than anybody else."
With only 5,000 copies of the album available, it won't crack any charts, but Hersh measures success differently. "If you're in today, you're out tomorrow," Hersh remarks. "And I've never been in, so I've never been out. I can sit in the corner of the music business and do whatever I want to do under the impression that no one's listening." Releasing smaller amounts of new material more frequently appeals to Hersh artistically as well as financially. "I was always turned off by having to sequence a record, knowing that some of the songs in the sequence were implying that the song was filler," Hersh says. "This way we can create a fully digestible product and not imply for a minute that each song isn't exactly what we want it to be."
50 Foot Wave opens with a lone guitar riff repeated five times before a drum beat kicks in and Kristin Hersh sings, "C'mon, c'mon play the goddamn music!" in her trademark rough-edged voice. In each of the songs that follow, speeding guitar and a heady beat veer toward collision in songs that are impossibly catchy despite the angular guitar work typical of Hersh. And her lyrics are as personal and inventive as anything on her solo albums: Although she's not singing about the voices in her head, she's still writing in the first person with lines like, "One more somnambulistic year, riding tethered to a hero and rescuing him."
"I don't really mean to write about anything," Hersh says. "The lyrics sound to me like percussive melody until someone points out to me what I'm saying either because it hurt their feelings or it was striking enough for them to bring it up." Hersh has the curious habit of referring to her songs as living beings. "I wouldn't tell a song what to do, but they seem to pick and choose among my life pictures to make their own point and it's always something I don't know yet."
Life on the road seems to suits Hersh. They've played 31 dates so far and plan to play another 69 before the year's end. As her husband drives the bus and her three youngest children play in the back, she says, "It used to be that music was something that was walked from one town to another, played in bars and with family members. We forget that it used to be a human thing instead of a money thing." The kids frequently travel with the band, as do the family dogs, cats and goldfish, the latter of which don't seem to mind swimming around in the sink. Hersh laughs that "it's way Partridge Family," but what rock mom wouldn't measure success by how many animals fit in the back of the bus?
Visit Throwing Music for more on 50 Foot Wave, and to order the CD.