SPIN Rating:
Release Date:
February 10, 2004
Label:
Roc-A-Fella
This review was originally published in the November 2003 issue of SPIN and featured a grade of B+.
If it's getting tougher to tell the playas from the pontificators in hip-hop today, blame Kanye West. As one of the Roc-A-Fella label's go-to producers, the Chicago-bred West has given Roc slugger Jay-Z some big, fat pitches to hit — "Girls, Girls, Girls" and the Doors-sampling "Takeover" among them. But he's also hung onto his underground cred, working with the thoughtful likes of Talib Kweli (whose first solo hit was the West-produced "Get By"). The self-proclaimed "first nigga with a Benz and a backpack" seems to see little difference between Hova's big pimpin' and Kweli's bully pulpit; it's all part of the magnificent bastard that is hip-hop.
West built anticipation for his debut album with a string of stellar mix tapes, on which he displayed his production chops and kicked some surprisingly nimble rhymes. Most producers who approach the mic do so at their peril, but on Dropout, West turns out to be a full-service hip-hop artiste. As a producer, he shuttles back and forth between stuttering Southern bounce and graceful, elegiac, classic-soul tear-jerking; as a rapper, he's got a sly sense of humor, an appealingly conversational tone, and a big heart. He sounds equally at home considering the lure of materialism with Ludacris on "Breathe In Breathe Out" ("Always said if I rapped I'd say something significant/ But here I am talking about money, hoes, and rims again") or pleading for celestial guidance on "Jesus Walks."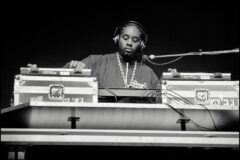 West's we're-all-in-the-same-gang ideology peaks on "Two Words," which features Philly hardass Freeway, master thespian Mos Def, some swirling electric guitars, and the Harlem friggin' Boys Choir. Freeway plays the hit man and Mos the enlightened activist, while West hangs in the middle, sending out love to the gold-fronted and the Native Tongued alike.