SPIN Rating:
Release Date:
June 09, 2003
Label:
Capitol
This review was originally published in the July 2003 issue of SPIN and featured a grade of A.
It's all right — you can admit it. When the bedroom lights are out and all you can see are the shooting stars on your screen saver, you've heard yourself whisper: "It's so not okay, computer. You mediate our work, our play, even our sex lives. Do you have to mess with our rock bands, too?"
It's an understandable response to the dystopian blip pop of Radiohead's 2000-2001 tag team, Kid A and Amnesiac. But it's a misguided one. Electronic music has informed the band's approach ever since singer Thom Yorke was a club DJ in college during the early '90s. And anyone who's caught them in concert during the last few years — or heard 2001's I Might Be Wrong: Live Recordings — has felt how bone-shaking those two albums are at their core. If anything, Kid A and Amnesiac have improved with time; if they don't rival the passive-aggressive guitar grandeur of OK Computer, they're logical extensions of it.
Anyway, Hail to the Thief obscures the are-we-rock-or-not? debate from the get-go. "2+2=5" opens with an electronic sputter that turns out to be the crackle of a guitar amp, not a laptop. A sly digital beatbox gives way to drummer Phil Selway's very human pounding; the song itself is a schiz-out that mixes the tantrums of the Pixies with the sad dreamscapes of Sigur Rós, two of Yorke's most beloved bands. From track to track, Thief seesaws between the chill of sequencers and the warmth of fingers on strings and keys, like roommates having a stereo war. Yet the tension somehow holds things together — when the piano rises from the loop quicksand of "Backdrifts" or jostles with the clipped beats of "Sit Down. Stand Up.," it feels more like a band playing to a multitude of strengths than the formal wrestling of Kid A.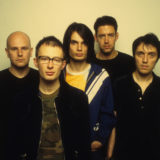 https://youtube.com/watch?v=GTzfdgAIX5I
But like all their records, Hail to the Thief is driven by psychic stress — in this case, the strain placed on people of conscience by a world in which so-called democracies bum-rush the electoral process and attack nations in lieu of practicing diplomacy. Beginning with its title (a common Bush-dissing protest-poster slogan), the record is filled with war-haunted narrators ready to sandbag and hide ("2+2=5") or lie down in a bunker ("I Will"). Some of them imagine walking amid bullets ("Scatterbrain") and dragging out their dead ("A Wolf at the Door"); others want to suck your blood or eat you alive. And naysayers are powerless. "We tried, but there was nothing we could do," croons Yorke on "Backdrifts," a conspiracy blues riding antsy digital beats. "All tapes have been erased." The record's most lacerating track, "Myxomatosis" — named after a virus used to curb rabbit populations in Europe — asserts that even those brave enough to speak out are "edited, fucked up, strangled, beaten up" by a news media whose gatekeeping policy Yorke nails: "No one likes a smart-ass / But we all like stars." (Word to Michael Moore.)
But Hail to the Thief is too impressionistic to be reduced to a political screed. Like even Radiohead's most abstract work, it's strewn with the burnished, elongated melodies that have made them the most diversely covered band since the Beatles: See classical pianist Christopher O'Riley (the new True Love Waits), jazzman Brad Mehldau ("Exit Music (For a Film)"), the Flaming Lips ("Knives Out"), and the surprisingly hot Strung Out on OK Computer: The String Quartet Tribute to Radiohead. It's also a reminder of the group's key paradox: No other band makes fear and sorrow seem so empowering. "We're not an indie band," Yorke once insisted; Radiohead refuse to disappear up their aesthetic arses. Instead, they pitch a big — if strangely decorated — tent and invite a crowd, on their own terms. Because as grim as things may get, there's still strength in numbers.