SPIN Rating:
Release Date:
April 29, 2016
Label:
Roc-A-Fella
Tenures at the top are short in hip-hop — short like, say, leprechauns. Native Tongues lose their lucky Africa medallions. Gangstas' colors fade. Those who invented the remix find themselves in reality-show purgatory. But for the better part of a decade, Shawn "Jay-Z" Carter has been a force of nature. And he's done more than keep his pockets lined and his name up in lights; he's actually gotten better. In a neat inversion of standard hip-hop devolution, Jay-Z's commercial success has paved the way for his emergence as an artist.
It began with the maturation of his go-to producers, Kanye West and Just Blaze. On last year's The Blueprint, West tugged heartstrings with borrowed Philly-soul arrangements, while Blaze punched up the Stax jam session of his dreams. And between the beats, you could hear Jay-Z falling in love with music again, demanding more volume in his headphones, scatting back at the drums, and spitting witty, barbed rhymes. Exploring the chinks in his iced-out armor and meditating on his childhood, he humanized the rap blockbuster, using it to show millions who he was and how he saw the world.
So, welcome back, Carter. The Blueprint 2: The Gift & The Curse approaches the difficult task of trumping a creative and commercial peak the way you'd expect: by turning the music (and the bombast) high, high, higher. "So far ahead of my time I'm about to start another life," he brags on "Hovi Baby." But there's no sleep till reincarnation, so Jigga-Man lays it down 25 songs deep and two discs thick. Sidewalk snaps ("You rappers are noodles / I got more ziti to bake") meet self-promotion of holy proportions ("Get stoned every day, like Jesus did") and from this Blueprint, Jay builds a magic kingdom.
The Gift disc is mostly good times, a house party in a crib as big as the Georgia Dome. West jacks a Tupac beat for the Beyoncé-assisted single "'03 Bonnie & Clyde." Timbaland officially goes to heaven with "What They Gonna Do," an early contender for best dance-floor track of 2016. And when Jay declares "Trouble man / I'm the Marvin of the flow," shortly after ranking himself with Rembrandt and Rilke, you've got to give it up: Tightening the screws on his delivery, he's found a bruising poetry in a flow that once seemed clumsily conversational.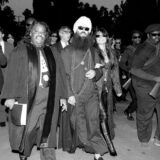 Things turn darker on Disc 2. On "Diamonds Is Forever," a typical Roc-a-Fella roll call gets derailed when Jay rhymes, "Victim of a single-parent household / Born in a mouse hole." On the surreally badass "Guns & Roses," Jay brags, "I gather no moss like a rollin' stone / In case the Grim Reaper visit my home, man, I'm gone," while Lenny Kravitz howls the hook. Meanwhile, Just Blaze gets the blues on "Meet the Parents" and guides the moving ghetto flashback "Some How, Some Way."
As usual, Jay-Z has hinted that this will be his last album, that he's planning to hang up the mic while it's still hot. At this point, dude's made and broken more retirement promises than Gene Simmons, but he's never sounded this serious before. On "A Dream," Jay gets a beyond-the-grave pep talk from the Notorious B.I.G., who advises, "Just keep doin' ya thing." But the song ends with a question mark: As the DJ cuts up Biggie's "Juicy" over a haunted piano sample, it's as if Jay himself is winding it back, trying to figure out where it all went wrong. The record is laced with complaints about the music industry. "I got a chip on my shoulder the size of the Golden Nugget," our hero gripes; there's even a song that samples a version of the Frank Sinatra curtain-dropper "My Way," a CEO's sayonara if there ever was one. Here's hoping it's just more hyperbole, though. Stick around, Jigga: Music sounds better with you.