LIKE PIMPS THEY'RE PIMPIN': 1988-'89
David Berman (former president, Capitol Records): Tim Carr [then an A&R executive at Capitol] came in and wanted to sign the Beastie Boys. What really convinced me was meeting them. They were, without a doubt, the smartest bunch of really arrogant kids I had ever met. I was like, "They're too smart not to pull it off."
Tim Carr: By today's standards, it was the cheapest deal ever. They had sold four million records, and they had a little problem getting some royalties and record payments from their former label. They cut a deal with Def Jam where, if they chose not to go after a certain amount of money they were owed, they could have their freedom.
Diamond: For Paul's Boutique, we had a lot more money and a lot more time. It was definitely more on our own terms.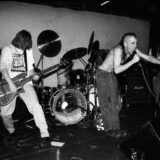 Mike Simpson (member, Dust Brothers): They had heard about our studio, so they came by and stuck their heads in. We were putting together these dense, crazy tracks for no specific reason, and they were like, "Wow, we'd love to use this stuff. Can we buy these songs from you?"
Yauch: The technology was advancing really quickly. The Dust Brothers were working with samplers, and they could quickly layer a lot of different loops. When we first heard their tapes, they played us what ended up being "Shake Your Rump" and "Car Thief." I thought it would be incredible to rhyme on. And they said, "Actually, that's too much music, but we could strip it down to beats." And we said, no, we want to rhyme on it the way it is.
John King (member, Dust Brothers): If we were doing something too commercial with the music, they would say, "Nah, I don't like that." They didn't want it to blow up. Yauch said, "We won't promote this at all, it'll be a cool thing that people find out about."
Carr: Mike D was driving around and playing the tracks for me. They started with a drum part that was obviously from the intro to "Sgt. Pepper's Lonely Hearts Club Band." And I said, "I don't know if you can do that." And right as I said that, a guitar line from Abbey Road came in. Mike said, "Well, hopefully they'll be able to work out the samples." And I said, "Mike, come on — it's the Beatles." He goes, "Yeah. I know. But what could be cooler than being sued by the Beatles?"
Simpson: We became obsessed with throwing eggs at people. The Beasties were staying at the Mondrian hotel, on the ninth floor. Summer was starting and every day all these people would line up in front of the Comedy Store across the street. It was just open season. Eventually they got a very diplomatic letter from the hotel management, like "We've had some reports of things falling out of your window. If there's a problem with your window, please let us know." Then we started driving around in limos, throwing eggs at people. That's how we came up with the song "Egg Man."
King: We'd go skiing together and Yauch would bring along a vial of liquid acid to drop in his eyes when he started hitting the slopes — the double black diamonds.
Powell: Paul's Boutique was definitely Mother Nature's candy-influenced, if you know what I mean.
King: There's a lot of lines on the record that are inside jokes. That made it really fun for us, but it also made me think, "Who's going to enjoy this?"
Turkkan: All the really hard-core hip-hop heads wouldn't publicly admit it, but quietly, they'd all say to me, "Oh my God, the beats on this record are the most unbelievable thing on earth." From Chuck D to LL Cool J to KRS-One, they were all in awe of Paul's Boutique.
Simmons: Eric B. told me he could steal 15 albums off the Beastie Boys' second album.
Carr: Paul's Boutique came out and I figured that the marketing department would do the next part of the job, so I left for a vacation. While I was away, David Bermanwas fired. And as the legend has it, somebody who had firing power over him said, "We're the laughingstock of the music business because we signed the Beastie Boys." Heads definitely rolled.
Doctor Dre: For Yo! MTV Raps, we got in a Jeep and drove up a mountain. We talked about Paul's Boutique and ways of trying to get their audience back. Then we drove by Rick Rubin's mansion. I think we pissed on the front gate in unison.
Powell: The G Spot [in L.A.] was named after the Grasshoffs, some old funky couple. The boys were renting the house and used to dip into their closets. They were full of '60s and '70s funky shit, like, Sly and the Family Stone-style. A lot of velvet. When the Beasties put it on, they looked like weird pimps. Mike had the Breakstone Butter crown and used to rock it to the supermarket. He hooked himself up with the master bedroom. Horovitz had the player's room, this weird underground thing that had a window that looked into the pool. I took the Paul's Boutique sleeve from inside his bedroom.
Adams: They were living very differently when they were in California. Yauch was living in a log cabin. Horovitz had a big house up in the Hills. They all had more than one car and big swimming pools and all that. Their friends were the sons and daughters of rock'n'roll royalty.
Donovan Leitch (member, Nancy Boy): Horovitz had kind of an attitude about L.A. at first. The first time we went out to eat, I ordered guacamole. He goes, "Guacamole, I bet you call that guac." But then he learned to like guacamole and everything else about L.A.
Monte Messex (former member, D.F.L.): There were always parties, not like night parties, but softball games and barbecues and birthday celebrations. Horovitz started to become close friends with [actress] lone Skye's friends. He and lone used to baby-sit for me all the time. They came to my wedding and I went to theirs.
GET IT TOGETHER: 1990-'94
Diamond: The initial notion for Check Your Head was just all three of us getting back to playing instruments. We'd been hanging out with the Dust Brothers and listening to stuff like the Meters and Sly Stone and the Crusaders, so we just sat down and said, "OK, let's play something funky."
Yauch: We'd been making these pause tapes for each other that would go from jazz instrumentals into reggae into hardcore. We decided to sequence the album like a pause tape — put together these different kinds of music.
Mario Caldato (Beastie producer): Mike D came home kind of drunk one night and crashed into the wooden gate at the G Spot house. He was like, "Oh, shit, we've got to get this fixed. We need a carpenter." I said, "My boy Mark [Ramos-Nishita] will hook it up."
Money Mark (Beastie keyboardist): I became the carpenter for that gig, and we started talking about music. Things unfolded pretty quickly.
Powell: Mark brought the Sanford and Son-type feel.
Money Mark: What was to become the "G-Son" studio was this old ballroom, and next to it was a plumbing shop. It was called Gilson's, but the "I" and "L" had fallen off the sign, so the [owners] just put a little hyphen there and made it "G-Son." The Beasties were getting busy trying to make the record, so I kind of rushed the making of the control room. We were building and recording at the same time.
The Captain: They built skateboard ramps in there and put a basketball hoop in. You'd hang and play ball and jam.
Diamond: We were having trouble getting focused, so we went to San Francisco. We were up there when we got the news about Dave Scilken [who died of a drug overdose].