Put Your Worries on Hold
Though he no longer looks like an urban lumberjack, Adam Yauch really does live in a log cabin in the Hollywood Hills. At 27, he is the oldest Beastie Boy, and his temples are already graying. Though all the Beasties are going from being boys to men, Yauch is arguably the most mature.
Maybe he's just the most seasoned musician. He has played bass for 12 years. In 1984, he was an assistant engineer at Arthur Baker's noted Shakedown Studios, and the following year he released a single, "Drum Machine," with an engineer called Burzootie.
Not only experienced, Yauch is also remarkably focused. He has always been determined. "Going to Edward R. Murrow High in Brooklyn in 1979 dressed as a punk was definitely a nice little challenge — getting hassled by the dudes with freeze-dried hair and acid-wash jeans." During the recording of the new album, the band worked from mid-evening to early morn. But Yauch would go home and keep slaving in his own studio "Till the crack of dawn / Mowing down MCs like he was mowing the lawn."
It was his idea to make the new record instrumental. When that proved unfeasible, he was the first to bust rhymes. Accordingly, his love vibe informs the entire album, culminating in the last song, "Namaste," Yauch's inspiring and inspired stream-of-consciousness rap that sounds like a cross between "Riders on the Storm" and Robbie Robertson.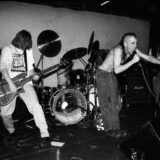 "Namaste" is no joke. It reflects where Yauch was at during the recording of the live instrument tracks. Nowadays, he's in a more traditional Beasties mood, but at the time, he hardly ever drank or smoked herb. Instead, he spent his time "getting in touch with his higher self by reading spiritual texts and checking out different perspectives. Coming from anybody else, I'd cry, "Goofy!"
We started the day by going to his friend's house and recording an Indian instrument called the tamboora (which appears in "Finger Lickin' Good"). After that, we eat lunch at an Indian restaurant, and along the way, we hit a record store where he explains this new vibe.
When the Beasties first met each other, Kate Schellenbach and Jill Cunniff were in the posse. Schellenbach had been in the Young Aborigines with Mike D before the Beasties formed and was in the Beasties up through 1983's Cookie Puss. When Rick Rubin came along, however, the girls say his sexism brought out the hitherto-unseen worst in the group.
Fortunately, Yauch has outgrown the urge to write songs about "shooting people and disrespecting women," songs that he now claims were tongue-in-cheek. "I was on a mad woman hunt back then. Now I've got a girlfriend, but it's not like 'Oh, I can't say that because of my girlfriend.' It really just isn't going through my head."
Yauch, for one, has checked his head. "If fucked-up things are going on in my life, it's probably because fucked-up things are going on in my head." Needless to say, Adam Yauch's life is not fucked up.
Jill Cunniff wonders if his new mellowness will affect the sense of humor of the kid who cowrote the script for the band's aborted comedy, Scared Stupid — and who used to hawk Italian ices by yelling, "Get 'em while they're hot."
But you can "Put your worries on hold," as Yauch says on "Pass the Mic." For one thing, Yauch is not all love and kisses on the new album (check his bit on "Professor Booty"). And for another, he seems comfortable with the indelible mark L.A. has left on him. "A lot of people in New York think L.A. is soft. I used to say that shit, too." He also says he is homesick for New York.