Swede and Sour: The Strange, Sardonic Return of the Embassy
After seven years away, the influential "punk funk disco" duo are back to mess with your minds
Brooklyn-based James Brooks, who's prepping his second proper LP as Elite Gymnastics, sees the shimmery, tuneful productions of Swedish acts like the Embassy as a vehicle for attitudes that in the U.S. might be expressed by scrappy guitar groups. "The relationship between America and these Swedish bands is sort of interesting to me," he shares via e-mail, "because I think a lot of people hear the commercial potential inherent in such likable music and wonder, 'Why isn't this huge?,' and then are surprised when those bands come over here and just kind of wander around onstage not caring about impressing anyone."
This self-defeating mindset — check out unimpressed live reaction to the Embassy following chill-out duo jj's live U.S. debut at SXSW a few years ago — hasn't exactly helped raise a North American profile. In a recent inopportune twist of fate, the band's Service label announced in January it was shutting down; a farewell note contained lyrics from the Embassy's breathless 2005 single "Some Indulgence" (Sweet Sensation is the first release on the Embassy's own International imprint). Håkansson says that while the indie had a "huge" impact in the twosome's native Gothenburg in the early days, those times are long gone. "The media, other bands and the audience were afraid of us back then but instead of joining the party and celebrate they stole and back-stabbed the movement," he writes. "Today no one gives a shit about us or Service, we are not important. And outside Sweden it's too late to tell anyone anything, it's just nostalgia, boredom."
Perhaps that nostalgia is premature: Sweet Sensation is a further refinement rather than a dramatic change, and such is as good a place for newcomers to start with the Embassy as any. The dance emphasis is a bit more explicit, the bass lines more prominent, but the artful, unabashed lovesickness of a song like "I-D" still sets the Embassy apart: "Better die on your feet / Than live on your knees," Lindson sighs, a grown man focusing heartbreak through a Zapata reference, backed with synth-and-guitar yearning. Elsewhere, the chirpy strummer "Related Artist" starts with a sample of Andy Warhol talking about whether his art is "playing a joke on the public." Warhol says," No, it gives me something to do." The joke is, he's not joking.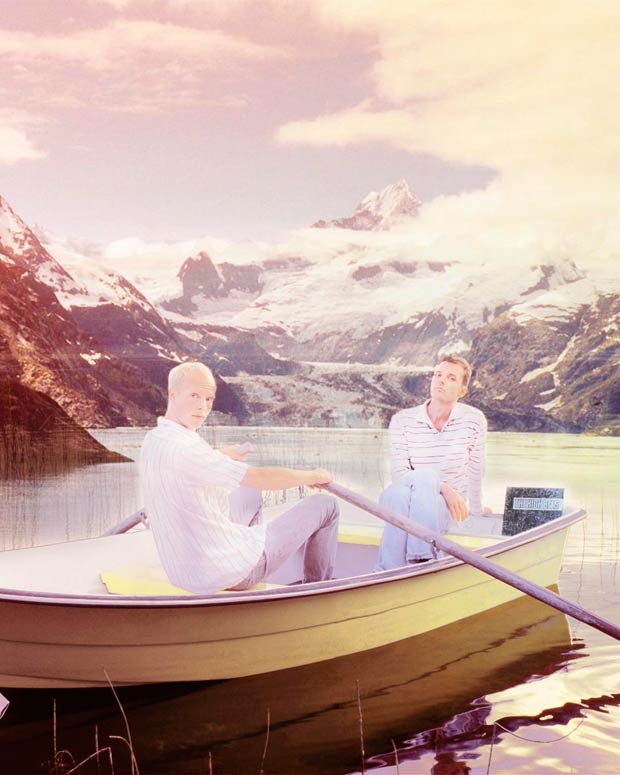 Same goes for the Embassy. Their blend of indie pop and house aesthetics flows organically from their youthful enthusiasms. Lindson says he recently found an old newspaper clipping at his parents' home. "It was from 1990 and about a café that my classmate had started and where I used to DJ," Lindson writes. "He is quoted: '…the café is a hangout. Fredrik, our DJ, plays indy [sic] and house.' So yes, that has always been a natural mix for us. We're just diggin' deeper, keep looking in new corners." At the same time, Lindson and Håkansson see themselves as part of a broad lineage. Asked if there are any misconceptions about the Embassy, Håkansson writes, "We are sometimes filed under Balearic or synth pop, but we think we play punk, punk funk and punk funk disco."
If punk squandered its Year Zero by turning it into a dress code, the Embassy, on their own intimate scale, have worked to start a new one, by being honest about their imperfections and open to musical evolution. In emphasizing that his isn't "a retro band," Håkansson nonchalantly quotes an obscure '80s left-wing U.K. skinhead punk band's lyric, which, having come up in songs by both the Tough Alliance and Lekman, could serve as an epigram for their entire scene: "It's like the Redskins said," Håkansson writes. "'Take no heroes, only inspiration.'"
The Embassy say they themselves were inspired last year by London indie-dance impresario Kindness, whose propensity to cover the Replacements but also sample Escort and Trouble Funk marks him as a kindred spirit. Along with the Drums and Elite Gymnastics, Service's sister imprint Cascine also carries on the Embassy's anti-tradition tradition. The Embassy's next spiritual followers might even be, paradoxically, a guitar band: If you can get past the obvious sonic differences, fellow Scandinavians Iceage's brand of idealistic ruthlessness is decidedly in the mold of the Embassy and the Tough Alliance — the latter of whom antagonistically lip-synced and swung baseball bats during live shows. As for the Embassy's concerts, whenever and wherever those may be (no upcoming dates are currently listed on their website), Lindson writes, "We do what feels right and necessary." They always have.