SPIN's 50 Best Albums of 2011
From Girls and Danny Brown to the Rapture and the Weeknd, the soundtrack to our majorly Fucked Up Year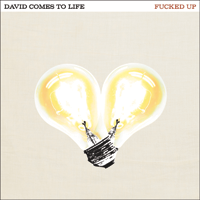 1
Fucked Up
David Comes to Life
One could argue (and we did, in our story on the band in the January-February issue!) that Fucked Up's rock opera
David Comes to Life
was uniquely resonant upon its June release because of the emotional synchronicity between an album that spilled forth with such an appropriately chaotic narrative and a year in which tumultuous disarray became the norm. But good lord,
David Comes to Life
could've been sung in backwards Tagalog and it still would've made perfect sense in 2011. That's the power of a gang of punks playing with Olympian levels of passion and purpose.
Listen to David's psychedelic fuzz-wave of guitars crest and break on "One More Night." Feel Jonah Falco's rocket-powered Ramones beat blast all 18 tracks forward. Absorb the bittersweet vocal guest spots from Kurt Vile, Cults' Madeline Follin, and Jennifer Castle. Hear the sympathy, anger, love, and regret in frontman Damian Abraham's intensely human roar. Yes, there's a story — about the redemption of a beaten-down English factory worker–embedded in the ambitious, rambunctious Toronto sextet's boundary-pushing songs, but it needs no explanation. Fucked Up have synthesized 40 years of rock into what's ostensibly a hardcore record, and in doing so created its own logic. So bang your head. Beat your chest. Follow your heart. There's the story — for this year or any other. D.M.