SPIN's 100 Greatest Guitarists of All Time
SPIN doesn't worship "guitar gods" — we like our axe-wielders to be flawed, resourceful, egalitarian, and human
To celebrate the new generation of shredders profiled in our May/June "Loud Issue," the SPIN staff decided to find some wheedle in a haystack, taking on the impossible task of ranking our favorite guitar players of all time. Traditionally, the "greatest guitarist" timeline begins with Robert Johnson magically conjuring the blues, nears perfection with Eric Clapton mutating it beatifically, and then ultimately reaches a boomer-baiting Rock and Roll Hall of Fame apotheosis with the free-spirited Jimi Hendrix shooting it into space like feedback-laden fireworks. For this list, we veer toward the alternative canon that kicks in with the Velvet Underground trying to erase that form entirely, making guitar solos gauche and using instruments as sadomasochistic tools for hammering out sheets of white heat.
As you will see, our list embraces outsiders, trailblazers, outliers, and Eugene Chadbourne playing a rake. We don't worship "guitar gods," but prefer our axe-wielders to be resourceful, egalitarian, flawed, and human. We're not drawn to Olympic feats of fleet-fingered athletics, unless they're used for unique and exploratory ends. We see the mewling histrionics of Jeff Beck as tyranny instead of catharsis. The name Derek Trucks is practically alien to us.
But maybe we're overthinking all this. Shut up 'n play yer guitar! CHRISTOPHER R. WEINGARTEN
100
SKRILLEX
Look, as far as we know, our asymmetrically coiffed party pal has never held a guitar in his life. But no contemporary musician has a more primal understanding of adrenaline-pumping, pulse-raising, chest-caving bulldozer riffs than dubstep mosh ambassador Skrillex. Somewhere between the unfiltered piston-pumps of nü-metal and the twinkling emocore melodies that weaned him is a gaping sarlacc of yawping melodies and buzzsaw edges. The bass drop to "Scary Monsters and Nice Sprites" might just be this generation's "Smoke on the Water" — look no further than the obscene number of "Skrillex guitar cover" videos on YouTube!

Most Heroic Moment: Korn's "Get Up," even if Munky technically plucked the strings. CHRISTOPHER R. WEINGARTEN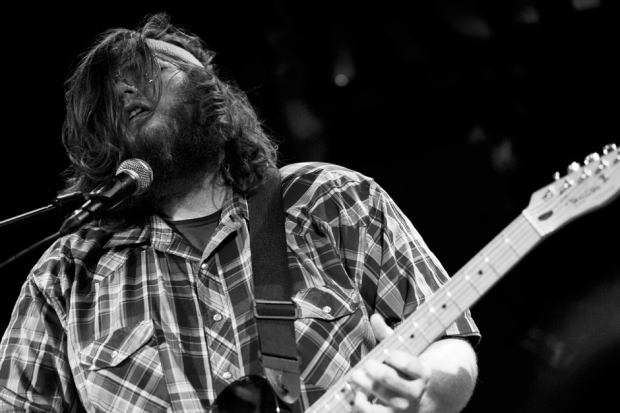 99
Paul Saulnier (PS I Love You)
In SPIN's May/June "Loud Issue," Paul Saulnier, frontman for squawking indie-punx PS I Love You, mused, "I'm getting comfortable with self-indulgence." Hopefully, not too comfortable: Saulnier's yelping guitar-driven blurts cast him as a Clark Kent too shy to ever fully embrace his Superman side. Endearingly knock-kneed riffs lurch along with their heads down before briefly unbuttoning their shirts to reveal the brawny licks underneath. Virtuosity is rarely so endearingly bashful.
Most Heroic Moment: Two minutes into "Butterflies and Boners," when a thick haze of distortion lifts and the cascading finger-tapped section begins. DAVID MARCHESE
98
Mark Morgan (Sightings)
While pretty much every noise musician uses the guitar as a weapon of mass destruction, Mark Morgan of scuzz-worshippers Sightings uses his guitar for sheer negation. Playing in 50 shades of gray on found and borrowed pedals, the leader of this longtime Brooklyn noise band is quicker to sound like a vacuum humming, toilet flushing, or scrambled cable porn feed than Eric Clapton or even Thurston Moore; a unique sound that has all the emotion of punk, with none of its recognizable sounds. As he told the blog Thee Outernet: "Probably the biggest influences on my playing style is sheer fucking laziness and to a slightly lesser degree, a certain level of retardation in grasping basic guitar technique."
Most Heroic Moment: The blast of white-hot lava that passes for a riff on 2010's "Saccharine Traps." C.W.
97
Ira Kaplan (Yo La Tengo)
A reluctant soloist, Yo La Tengo cofounder Ira Kaplan was credited with "naïve guitar" on the band's first single in 1985 and didn't begin taking the spotlight regularly until some two years later. Starting with a bucket of Velvet Underground moves, Kaplan became a consummate inside guitarist, too, a deceptively normal-looking dude folding in space jazz, barbed noise, spare country soul, and — when very occasionally called for — traditional feet-behind-knees rock jumps.
Most Heroic Moment: The deep-fuzz freak-out of 1997's "Deeper Into Movies," contained (but not really) by a glorious three-part vocal arrangement. JESSE JARNOW
96
David Pajo (Slint)
As much a sculptor as a guitarist, Pajo's work in post-rock progenitors Slint was a frightening, seemingly rootless display of guitartistry that glided between extremes. Songs formed and dissolved without notice, turned inside out and back again, always at wildly unpredictable volumes. Pajo's uncanny knack for both creating and shrinking spaces on tape would eventually become the blueprint for later luminaries like Tortoise, with whom he also played.

Most Heroic Moment: The disorienting harmonics and seismic shifts of "Breadcrumb Trail" from 1991's Spiderland. DAVID BEVAN
95
Bill Steer (Napalm Death, Carcass)
Whether playing scabrous grindcore in Napalm Death or juxtaposing smooth, almost Pink Floyd–like blues solos over the surgically precise death-metal riffage of Carcass, Steer always managed to find a way to inject some ear candy into genres known for avoiding it. By 1993, when Carcass released Heartwork — its last true death-metal album (before embracing death'n'roll) — Steer had masterminded a hook-filled songwriting style that perfectly balanced metal virility with honest-to-God melody, something countless bands are still attempting to copy.
Most Heroic Moment: The frenzied riffing, bluesy solos, and general hookiness of the song "Heartwork," showing off Steer's melodic acumen in the first two solos. KORY GROW
94
Ibhahim Ag Alhabib (Tinariwen)
As his Tuareg brethren continue their separatist insurgency in northern Mali, the leader of Tinariwen again can lay claim to being one of the world's few literal rebel rockers. Ibrahim gets credit for inventing the modern Tuareg electric guitar style adopted by Etran Finatawa, Bombino, and other Saharan musicians. He generates this gritty, grungy, churning sound by hammering open strings on his Fender axe in a laid-back desert boogie reminiscent of his late northern Mali peer Ali Farka Touré.
Most Heroic Moment: "Assouf" from their 2007 breakthrough Aman Iman: Water Is Life. RICHARD GEHR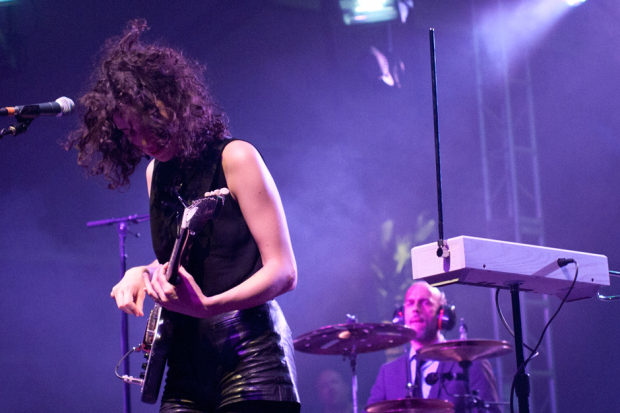 93
Annie Clark (St. Vincent)
The tricky little lead lines with which she peppers St. Vincent's already impressively broad catalog hint at Annie Clark's almost casual mastery, but her true genius lies in the way she treats the guitar as a dynamic sound source rather than a static instrument. In her hands, and within a tautly complex compositional framework, the guitar sounds limitless, capable of screaming, squalling, soaring, and crying — as if Hendrix were sitting in with a downtown art-rock band.

Most Heroic Moment: Performed live, the spidery "Your Lips Are Red" from her 2007 debut, Marry Me, pulses provocatively until it explodes into a thrilling mid-song distorto splatter breakdown. D.M.
92
James Blackshaw
Some guitarists find spectral overtone melodies inside sheets of feedback (see: Lou Reed's Metal Machine Music, Sonic Youth), but British wunderkind James Blackshaw uncovers them in careful stacks of 12-string acoustic guitars and bright orchestrations. Minimal in his attack and classical in his drama, Blackshaw bears the acoustic guitar torch in the 21st century, his pieces unfolding in slow, formal shifts until they beam like a burning light through stained glass.
Most Heroic Moment: The magnificently vivid 12-string ripple behind 2007's "Running to the Ghost." J.J.
91
Viv Albertine (the Slits)
Without the rhythmic pummel of the Slits, there would be no riot grrl, no Rapture, no Yeah Yeah Yeahs; and without Viv Albertine — who played guitar for this groundbreaking U.K. punk band, and wrote the bulk of their early material — there would be no Slits. Albertine's unrepentantly unpolished guitar stylings eschewed the high velocities and power-chord assaults of her male contemporaries in favor of trebly, dissonant stabs. It all meshed perfectly with the band's cheeky, confrontational songs, ultimately turning jagged rhythms into something as provocative and primal as anything punk produced.
Most Heroic Moment: 1979's "Typical Girls." DANIEL EPSTEIN
90
Trey Azagthoth (Morbid Angel)
Hendrix, Van Halen and, uh, Mozart are the musicians to thank for most heavily influencing death-metal shredder Azagthoth, not that they really come through in the jagged riffs and cheetah-fast solos of Morbid Angel classics like "World of Shit" and "Where the Slime Live." But that's because he has blazed a tension-filled style all his own (when he solos, he enters a mystical mind state he calls the "Temple of Ostx") that is finally getting more praise than early antics like cutting himself with a razor before hitting the stage and extolling Satanism.
Most Heroic Moment: The whammy damage and jaw-dropping speed of his solo on "Vengeance Is Mine," from 1993's Covenant. K.G.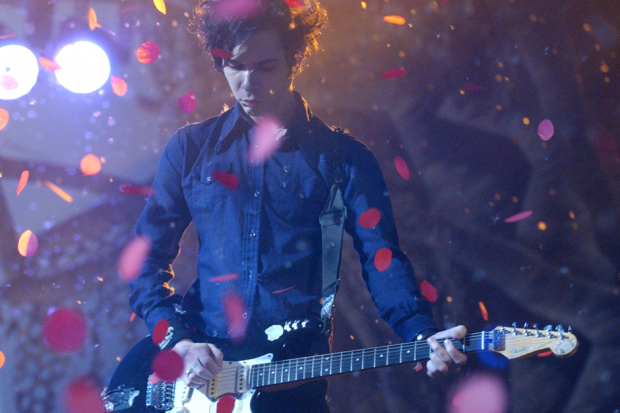 89
Nick Zinner (Yeah Yeah Yeahs)
The Yeah Yeah Yeahs' theatrically coiffed guitarist has several grueling jobs, among them holding down the trio's entire melodic structure and holding his own against one of the most dynamic frontwomen of our time. His signature see-saw call-and-response lines leave plenty of room for tension and release, war cries, and tears, and the kind of grand, clanging chords that'll turpentine your ears clean.
Most Heroic Moment: "Bang" — the first slightly out-of-tune note Zinner whanged on the band's self-titled 2002 debut EP was the New York rock scene's real wake-up call. CARYN GANZ
88
Dylan Carlson (Earth)
Rock's ultimate minimalists, Earth reduced heavy-metal thunder to a blissful rumble in the clouds. Their pioneering 1993 drone suite Earth 2 — pulseless, fearless, relentless — was little more than Dylan Carlson's guitar chugging away on a note or two for 73 monolithic minutes. Relieving metal and grunge from any pretense that wasn't distortion, menace, or catharsis, Carlson found a headbanger/shoegazer home between the primal and the O)))therworldly.
Most Heroic Moment: Earth 2's closing half-hour, a suffocating blast of gauzy, gazy amplifier worship. C.W.
87
Marnie Stern
Two-handed tapping was the hoariest of heavy-metal clichés until Marnie Stern reclaimed the concept on behalf of indie-prog bedroom shredders everywhere. No one would ever confuse Stern's chops with Eddie Van Halen's, but that's kind of the point: If Stern's shredding exudes the agreeably skewed internal logic of the self-taught, it also allows her to utilize the two-handed technique far more creatively than the pseudo-classical chest-puffing that usually comes with Dokken territory.
Most Heroic Moment: The gloriously wheedly "Vibrational Match" from 2007. D.E.
86
Ian MacKaye and Guy Picciotto (Fugazi)
Like Television not too long before them, Fugazi founders Ian MacKaye and Guy Picciotto engaged in a locomotive, dub-influenced dual-guitar shouting match. Though most of the talk around Fugazi inevitably leads back to their founding ethos, that way of thinking and operating permeated the music as well: Together, MacKaye and Picciotto were anti-frontmen, playing like a living, fire-breathing, two-pronged embodiment of democracy.
Most Heroic Moment: The simple, searing lines of 1990's "Turnover." D.B.
85
Stone Gossard (Pearl Jam)
Many arguments can be made for Peej's gifted lead guitarist (and corn-dogging, cheese-mongering Stevie Ray Vaughan acolyte) Mike McCready, but it's Gossard whose songwriting and toothsome licks propelled the Seattle grunge icons early, record-setting releases. The winsome chords of both "Daughter" and "Black," the white-knuckle smash of "Animal" or "Deep" or "Do the Evolution" — all were anchored by Gossard, a quiet type more invested in classic-rock craft than classic-rock showmanship.

Most Heroic Moment: The opening chords to 1991's shoulda-been-a-single "Breath." D.B.
84
Lydia Lunch
Lydia Lunch once beat her Teenage Jesus & the Jerks bandmates with coat hangers during practice; and her confrontational attitude was only matched by her completely unfettered guitar playing. Calling the instrument "a grand assaultive weapon," she treated it as such, often attacking the strings with knives or even shards of glass, refusing to even bother learning chords, using it as a blunt force to express a total anti-pop, anti-punk, anti-everything rage.
Most Heroic Moment: All 39 seconds of police-siren squall on Teenage Jesus' "Red Alert" from 1978's No New York. J.J.
83
Josh Homme
"Stoner rock" has to be the most useless classification in the long history of futile attempts to describe what music sounds like. (What rock isn't stoner rock, amirite?) Despite the misleadingly mellow connotation, the term is really just shorthand for Josh Homme's thick-necked guitar playing, first in Kyuss, but more famously in Queens of the Stone Age, blending '70s-vintage proto-metal sludge with high-desert lawlessness, Black Sabbath playing Jesse Pinkman's house party. Tall, ginger, and wielding a sense of humor as dry as his Mojave stomping grounds, Homme doesn't exactly look the part of an alt-metal godhead, which only makes the poison easier to swallow.
Most Heroic Moment: His hits would get bigger and his star would rise higher, but Homme's opening riffs would never get more indelible than the snarling intro to "If Only" from Queens' 1998 self-titled debut. STEVE KANDELL
82
Kristin Hersh (Throwing Muses)
The way Kristin Hersh rubs major and minor notes next to each other in her intricately plotted songs is truly haunting; a ghostly approach that didn't even require selling her soul at the Crossroads. Blending plucky arpeggios and bluesy slides with punishing strumming, Hersh's playing has actually gotten more aggressive as she's eased into her 40s with 50 Foot Wave.
Most Heroic Moment: 1995's "Shimmer" makes it easy to forget Hersh handles all the guitar work in the Muses herself, shifting effortlessly from lead to rhythm and back like an Indy 500 star. C.G.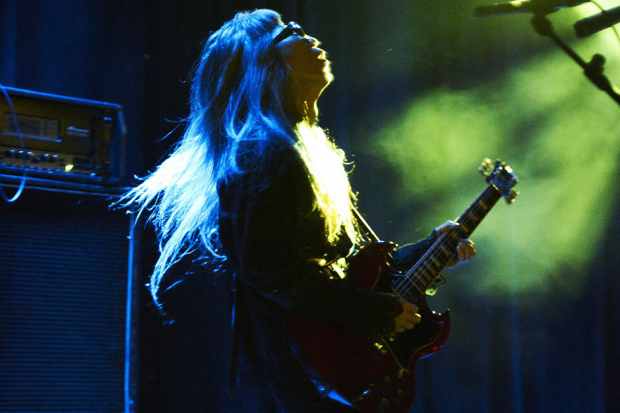 81
Keiji Haino
A towering figure in the Japanese underground beginning in the early '70s, Keiji Haino plays guitar — often distorted to the point of pure sound — with such a wild diversity that it's misleading to call him merely a "noise guitarist." But he is very, very, very noisy. With personas that include blues-sludge hero, noise-blast deployer, and big-eared post-psychedelic improviser, Haino's renown (and collaborations) spread far beyond Japan, most notably with albums recorded by Fushitusha, his all-improv/nominally rock outfit.
Most Heroic Moment: The untitled third track on Fushitusha's 1989 Double Live swelling from silence to silver tone-cloud without losing a bit of tenderness. J.J.
80
Dave Navarro (Jane's Addiction, Red Hot Chili Peppers)
It takes a shirt-hating, nipple-ringed madman to do proper battle with Perry Farrell's manic squeals. That maniac is Dave Navarro, who graced Jane's Addiction with adrenaline-fueled riffs like the bastard son of Led Zeppelin's Jimmy Page and Funkadelic's Eddie Hazel (check the funk-metal workout of "Stop" and the acoustic sing-along "Jane Says"), ironically leading the alternative-rock revolution with classic guitar-hero bravado. His I-can-play-anything zeal helped him weather Jane's mid-'90s hiatus, landing him a stint in the Chili Peppers and guest spots with everyone from Nine Inch Nails to Christina Aguilera.
Most Heroic Moment: The funked-up, wah-heavy solo on 1990's "Been Caught Stealing." K.G.
79
Duane Denison (the Jesus Lizard)
The classically trained Denison has played warped jazz-rock with Firewater, cool jazz with the Denison-Kimball Trio, experimental alt-metal with Tomahawk, rockabilly punk with Th' Legendary Shack Shakers, and outlaw country with Hank Williams III. But the angular, metallic sheets of noise that Denison unleashed with the Jesus Lizard are what he'll ultimately be remembered and revered for. Tightly controlled yet capable of ripping and tearing like a runaway chainsaw, Denison's riffs influenced an entire generation of post-hardcore guitarists, including the burgeoning wave of noise-punkers like the Men and Roomrunner.
Most Heroic Moment: Jesus Lizard's 1991 tantrum "Mouth Breather." D.E.
78
Vernon Reid (Living Colour)
Living Colour's unexpected 1988 breakthrough not only transformed Vernon Reid into rock's first African-American guitar hero since Hendrix, but it also exposed millions of unsuspecting metalheads to Reid's Ornette Coleman-influenced harmolodic jazz solos. Raised on Carlos Santana and John Coltrane and seasoned via the early-'80s New York City jazz scene, Reid let fly with explosive runs that were equal parts Eddie Van Halen and James Blood Ulmer — essentially paving the way for Tom Morello, Torche's Steve Brooks, and some of the most forward-thinking music to ever crash the Headbangers Ball.
Most Heroic Moment: The second solo in Living Colour's "Cult of Personality," surely the first free-jazz guitar break to make it into regular rotation on MTV. D.E.
77
Marissa Paternoster (Screaming Females)
Even after five Screaming Females albums, it's hard not to feel unexpectedly smacked upside the head by Marissa Paternoster's guitar, which — like her bracing singing voice — still sounds way too massive to be wielded by any human being without superpowers and way too confident to fit comfortably within the confines of indie rock. If Sleater-Kinney joined forces with J Mascis in a New Jersey basement to channel late Black Flag and early Smashing Pumpkins, they might come up with something approximating Paternoster's maelstroms.
Most Heroic Moment: "Doom 84″ off the just-released Ugly. D.E.
76
Bernard Sumner (Joy Division, New Order)
Cut from the same British factory-town cloth as Black Sabbath and Judas Priest — but delivered with schoolboy earnestness instead of rock-god swagger — Bernard Sumner's distorted jangle gave Joy Division's music its sense of nameless dread, even more so than Ian Curtis's haunted vocals. Sumner's guitar mostly faded into the background once Joy Division became New Order, but by then he'd already established the sonic template for countless post-punk guitarists to come.
Most Heroic Moment: The churning, moody "Shadowplay" from Joy Division's 1979 debut, Unknown Pleasures. D.E.
75
Bert Jansch
British folkie Bert Jansch possessed the rare combination of unbending solemnity, deep technical resources, the good sense to avoid turning into a cornball, and the ability to focus it all into accessible beauty. Sometimes substituting a severely bent teaspoon wrapped around his thumb for a guitar pick, Jansch cofounded mighty folk-rockers Pentangle in 1967, continued a four-decade solo career, and had at least one arrangement straight-up jacked by Jimmy Page ("Blackwaterside").
Most Heroic Moment: The crushingly mortal "Needle of Death," a 1965 classic that rivals Neil Young and Lou Reed in the smack-folk canon. J.J.
74
Lenny Kaye (Patti Smith Group)
As much a student of rock music as one of its prime architects, Kaye was a critic, collector, and session man before he cofounded the Patti Smith Group in the early 1970s. He grounded Smith's romantic poesy in the three-chord teenage riot of Chuck Berry's speaker cabinets; but he also brought a love for noise — and the knowledge of when, and where, to bring it.
Most Heroic Moment: The fantastic lead riff of 1978's "Rock N Roll Nigger." AARON BURGESS
73
Mick Barr (Orthrelm, Krallice)
Firework-fingered avant-shredder Mick Barr makes idyllic compositions that sound like Yngwie Malmsteen trapped inside one of Steve Reich's tape loops experiments forever. Raised in the Connecticut hardcore scene, Barr ultimately turned bedroom speed trials into high art, his trebly, ear-stabbing flurries distended into the pinballing herky-jerk of Orthrelm, the minimalist notescapes of Ocrilim and the icily transcendent black metal of celebrated gloomers Krallice. Plus, he's probably the biggest influence on modern wheedlepunk Marnie Stern. As she told Alarm: "The only way I can describe his playing is to say that your jaw will drop for the entire time."

Most Heroic Moment: The first, untitled, track on Orthrelm's 2005 split with Touchdown, a completely nauseous thrillride of brain-melting start-stop motion and cheetah-velocity fretwork. C.W.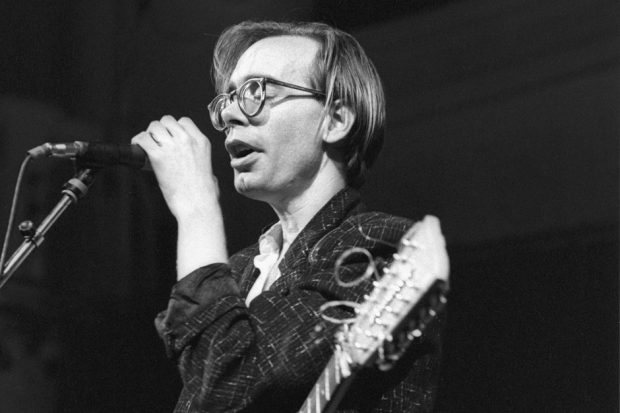 72
Arto Lindsay
In 1978, Lindsay had been playing guitar for about a month when he unleashed no-wave trio DNA (would-be "weirdest band in the world") on Manhattan. Lindsay's guitar served as a giant atonal percussion instrument comparable to the berimbaus he heard during his childhood years in Brazil. Silence and noise alternate in DNA tunes, which seem to stop short just as they get going. Lindsay's eventually finessed and formalized his neoprimitive skronk over the ensuing years into a unique mutant mix of bossa nova and out-jazz, remaining a vital voice both Downtown and way down South.
Most Heroic Moment: The two-minute skronk-shiver of "Lionel," one of DNA's contributions to 1978's No New York compilation. R.G.
71
Adrian Belew
The Kentucky-born King Crimson bandleader and former stunt guitarist for Frank Zappa, Talking Heads, and David Bowie can pretty much cull a menagerie from a guitar (he imitates a rooster, a cat, and an elephant in one Japanese commercial). Belew is also noted for his impeccable technical skills, his panoply of special effects (from screaming harmonics to twang-bar virtuosics), and being totally screwed by the Tom Tom Club over songwriting credits on their debut album.
Most Heroic Moment: "The Great Curve" from Rome Concert 1980, the Italian Talking Heads documentary filmed during Belew's two-year tour of duty in their live band. R.G.
70
Jerry Harrison
Harrison is a Harvard grad who started out laying power-pop brick alongside Jonathan Richman in Modern Lovers before finding his way into Talking Heads, New York post-punk pioneers who managed to take rhythmic genre-pureeing experiments to breathtaking pop heights. Harrison in particular, though, developed a spasmodic, spidery brand of guitar minimalism that would serve as indie (bed)rock for decades to come, inspiring the likes of Dirty Projectors, Vampire Weekend, and TV on the Radio.
Most Heroic Moment: The agitated fever-funk riff of 1977's "New Feeling" D.B.
69
Eugene Chadbourne
The Groucho Marx of the guitar, skronkabilly alien Eugene Chadbourne deals solely in slapstickery, sly punchlines, and exaggerated eccentricities. As if his implode-on-a-dime freakouts weren't enough, he's perhaps the quickest guitarist alive to exploit the parts of the instrument beyond the fretboard and beyond sanity, pounding, tweaking, scraping, and hammering away — not to mention playing a rake like the world's meanest axe.
Most Heroic Moment: Shockabilly's 1983 cover of the Doors' "People Are Strange," where the track keeps wiping out into finger-shredding piles of barbed wire. C.W.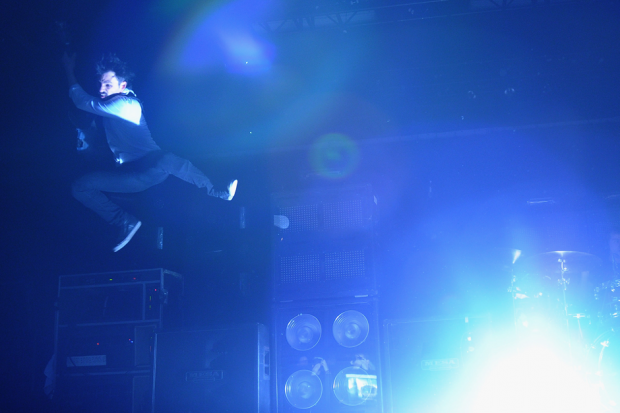 68
Ben Weinman (Dillinger Escape Plan)
Onstage, mathcore metalheads Dillinger Escape Plan whirl around and crash into each other, pulling off acrobatic, instrument-twirling, speaker-diving feats that most circus performers wouldn't consider without a net (and, yes, they've gotten hurt doing it). Sole original member Weinman, with his attention-deficit guitar playing, is the ringmaster, wearing out drummers (they're on their third) and guiding his bandmates through abrupt tempo changes, freak-jazz meltdowns, and even poppy Faith No More–like ditties with assured ease.

Most Heroic Moment: The syncopated glory and dizzying jazz breakdowns of Dillinger's 1999 classic "43% Burnt." K.G.
67
Kim Thayil (Soundgarden)
"Big Dumb Sex" wasn't just the title of one of Soundgarden's early jams — it was practically Kim Thayil's approach to the guitar. His sweaty, sinewy riffs corkscrewed around the soaring pipes of singer Chris Cornell, forming a tantric wall of sound that was equal parts Black Sabbath and blue movie.
Most Heroic Moment: 1989's "Hands All Over" prefigures every Pearl Jam riff ever in one soaring song. A.B.
66
Rowland S. Howard and Mick Harvey (the Birthday Party)
Nick Cave's original grindermen, Howard and Harvey churned out the Birthday Party's seedy, atmospheric noise and discordant melodies, augmenting Cave's woeful tales. Scruffy-haired and wild-eyed, Howard was the avant-garde Keith Richards to the multi-instrumental, Brian Jones–like approach of guitarist and organist Harvey. The pair's squawks and drones still resound in the works of groups like My Bloody Valentine, Mazzy Star, and the Horrors.
Most Heroic Moment: The meandering, lounge-y chords and noisy squelches that dueling with Cave's howling vocals on 1982's "She's Hit." K.G.
65
Mick Ronson (David Bowie, Morrissey)
The secret weapon for Ziggy-era Bowie and Lou Reed circa Transformer, Ronson helped define '70s glam by overplaying his songwriters' simple riffs and underplaying his own bluesy solos (one exception being the eye-popping closer to Bowie's "Moonage Daydream"). No wonder Kurt Cobain chose to play Ronson's part (over Bowie's acoustic) on "The Man Who Sold the World" for Nirvana's Unplugged.
Most Heroic Moment: Ronson's playing on "Suffragette City" was so good in concert that a be-mulleted Bowie once fell to his knees and simulated fellatio on Ronson's instrument. K.G.
64
Wino
From his name to his bellowing caveman vocals and, especially, his lumbering Sasquatch-on-Quaaludes power-chording, Scott "Wino" Weinrich (the Obsessed, St. Vitus, Hidden Hand, various other evil outfits) is a comic-book version of a doom-metal guitarist — just ask fanatic Dave Grohl, who recruited him for his Probot project. The immediate aggressiveness of Wino's playing is the sound of someone for whom over-the-top is never enough, and everyone from High on Fire to Mastodon are currently attempting to reach his peaks.
Most Heroic Moment: The transition from blues-wailing lead lines to stuttering funk to Beelzebub boogie on the Obsessed's 1991 beast "Bardo" — all of which happens in the span of about ten seconds. D.M.
63
Billy Corgan (Smashing Pumpkins)
In the flannel-flying '90s, while every upstart grunge act struggled to achieve Nirvana, Billy Corgan stood out by aping ELO, Queen, and My Bloody Valentine. Pumpkins epics were riff-saturated and mile-thick, and Corgan's penchant for micromanaging every note earned him a reputation as a tyrant. It also earned him four platinum albums and a legion of followers, including Muse and Silversun Pickups.
Most Heroic Moment: Exactly 3:10 into "Cherub Rock" when you're ejected from the womblike wall of guitars into a squealing, transcendent solo. A.B.
62
Tony Maiden (Rufus)
The R&B ramrod that was Rufus didn't truly kick into gear until Maiden joined the fold in 1974. Replacing Al Ciner, Maiden became Rufus's de facto bandleader, hooked up with Chaka Khan (becoming Ike to her Tina), and applied his supreme funkiness (and perfectionist work ethic) to tracks like "Tell Me Something Good," "You Got the Love," and "Sweet Thing." He's remains a deep-pocket guitarist with a flair for both melodic solos and perhaps injudicious use of the talk box.
Most Heroic Moment: "You Got the Love," the impossibly funky opening groove from the 1985 live album Stompin' at the Savoy. R.G.
61
Shuggie Otis
That this onetime wunderkind could record three gorgeously airy albums of guitar-driven psych-soul in the late '60s and early '70s, then basically disappear for three decades, and still be revered by the likes of David Byrne, speaks volumes about his entrancing genius. Shuggie's fluttery style fills the sonic spaces between gentle Jimi, OutKast, and Tame Impala.
Most Heroic Moment: The kaleidoscopic outro to 1971's "Strawberry Letter 23." D.M.
60
Chuck Schuldiner (Death)
Back when Twisted Sister ruled the airwaves and Metallica controlled the underground, Schuldiner was perfecting his own metal style that set new standards for extreme. Built around chunky, downtuned guitar riffs that bled into guttural screams, the genre his band Death helped create — death metal — sounded wholly primordial. Schuldiner constantly expanded his vocabulary, becoming more technical with elements of prog, inspiring Opeth, Nile, and legions of black-clad Guitar Center employees the world over.
Most Heroic Moment: The propulsive riffing and discordant soloing on 1988's "Pull the Plug." K.G.
59
Curt Kirkwood (Meat Puppets)
Once the Meat Puppets hit their stride you could count the number of seminal punk-rock bands in Phoenix, Arizona, on one finger. Thank Curt Kirkwood's desert-brewed guitar style fusing country, psychedelia, and early hardcore into one glorious morass — imagine Jerry Garcia in an SST food processor. Kirkwood's swirl'n'twang is a formative influence on Kurt Cobain and Animal Collective, but no one has really sounded like him since.
Most Heroic Moment: 1984's "Split Myself in Two," the solo which aims to feel as high as Kirkwood probably was when he wrote it. A.B.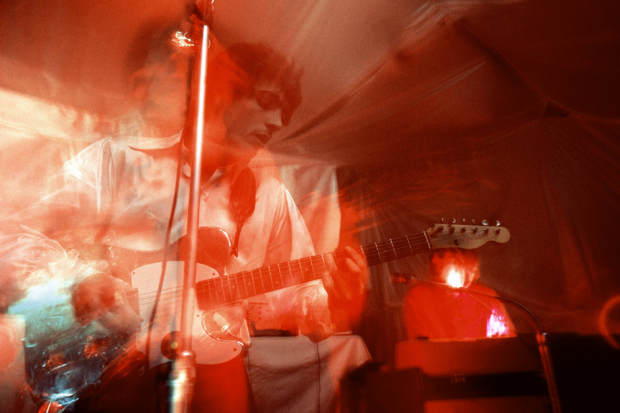 58
Syd Barrett
The Pink Floyd founder's prodigious guitar skills are often overshadowed by his oddball songwriting, kaleidoscopic production, and the whole brain-melted rock-archetype, crazy-diamond thing. But Barrett's tape-echoed, time-bending solos — often aided by Zippos and ball bearings on the fretboard — might have been the most outside thing about his music, pushing his ornate songs from mere psychedelic gnome-battling nuggets into truly box-destroying music.
Most Heroic Moment: Any one of those sky-shattering, 15-minute bootleg versions of "Interstellar Overdrive" from '67. J.J.
57
Doug Martsch (Built to Spill)
He can noodle you into submission, but chops aren't what make Doug Martsch's playing so charming. It's the doodly little riffs he pairs with his endearing whine like a fine wine — bloopy nuggets of melody wound around his voice that you find yourself humming long after the final chorus fades. Attend a BTS show and prepare to hear a lot of dudes singing guitar solos in your face.
Most Heroic Moment: Built to Spill's cover of Neil Young's "Cortez the Killer" on 2000's Live is like a 20-minute dissertation presentation on rock's rockingness. C.G.
56
Kim and Kelley Deal (the Breeders)
Kim played bass in Pixies because Joey Santiago had dibs on guitar, but a year after Frank Black killed the band via fax, she was ripping one of the most beloved guitar riffs of the '90s onstage at Lollapalooza with her own quartet. Like the bong in the reggae song, the Deals' twin guitar work is totally chill yet completely precise, zonked but in the zone.
Most Heroic Moment: Kelley handled the bruising lead line on Last Splash's "Saints," a song so arena-ready the rest of the band takes a breather. C.G.
55
Fred Frith
Jumping with an infectious playfulness from free-form improvisation to intensely metrical charts to art-pop glee, British guitarist Fred Frith is a vital link between the Canterbury art-proggers of the late '60s and the downtown New York avant-jazz circles of the early '80s. A founding member of dadaistic prog-punks Henry Cow — members of the U.K.'s Rock-in-Opposition movement — Fred Frith may not have killed fascists with his guitar the way Woody Guthrie did, but he surely made them blink uneasily with his dense note-clusters, chains-on-fretboard scrapes, and sudden turns of unexpected beauty.
Most Heroic Moment: All of Frith's schools of guitar playing melt to unadorned tenderness in the solo volume swells of 2002's "Fooled Again." J.J.
54
Euronymous (Mayhem)
In the early '90s while Metallica were finding their groove and death metal's leading names were playing stiffly, Mayhem mainman Euronymous was in the basement of his Oslo record shop, applying corpse-paint makeup and pushing the limits of murk and melody — essentially inventing the way an entire generation plays black-metal guitar. Known for eschewing the chugga-chugga technique known as palm-muting, the axeman moved toward harsh, aggressive melodies that have more in common with Mahler than Megadeth. In the process, every chilly, agoraphobic black metaller from Watain down to Liturgy (not to mention dabblers like Sonic Youth and the Microphones) owes him a debt of gratitude.
Most Heroic Moment: The brittle caterwauls of "The Freezing Moon," as heard on Mayhem's 1990 concert recording, Live in Leipzig. K.G.
53
Greg Sage (Wipers)
His father having worked in the broadcast industry, Sage grew up in a home with a lathe for cutting records. That freedom to write and record and cut records on his own made for some of the most singularly electrifying guitar music of the '80s with the Wipers, a blown-out mix of punk energy and transportive longform soloing, the perect blend of Pink Floyd and Pink Flag. Sage's experiments rarely repeated themselves, except in the work of his many admirers, including Kurt Cobain.

Most Heroic Moment: The knee-buckling noise of Youth of America's 14-minute title cut. D.B.
52
Johnny Thunders
As renowned for his imbibing as for his raw, rootsy chops, Thunders was punk's answer to Keith Richards — sadly, minus Keith's nine lives. In his brief time on Earth, this ex–New York Doll set the tone for every future punk strapping on a Les Paul. He balanced his sublimely sloppy power chords with graceful, sensitive licks (see "You Can't Put Your Arms Around a Memory") — a turn not lost on Green Day's Billie Joe Armstrong.
Most Heroic Moment: 1977's "Born to Lose," the spirit of '50s rockabilly channeled through a wave of desperation and the kerchunng! of Thunders' axe. A.B.
51
Robbie Basho
College pals with John Fahey, Baltimore native Daniel Robinson Jr. dubbed himself Robbie Basho following a mountaintop peyote trip, and after discovering Ravi Shankar's music when the Beatles were still mugging in black and white. Bringing ragas to the acoustic guitar while recording for John Fahey's Takoma label in the '60s, Basho's open-tuned meditations laid the groundwork for New Age, rescued after his untimely death in 1986 by a new generation of cosmonauts, ultimately spawning contemporary art-drone.
Most Heroic Moment: Spotting Eastern mysticism in cloudbanks drifting above the Great Plains on 1971's "A North American Raga." J.J.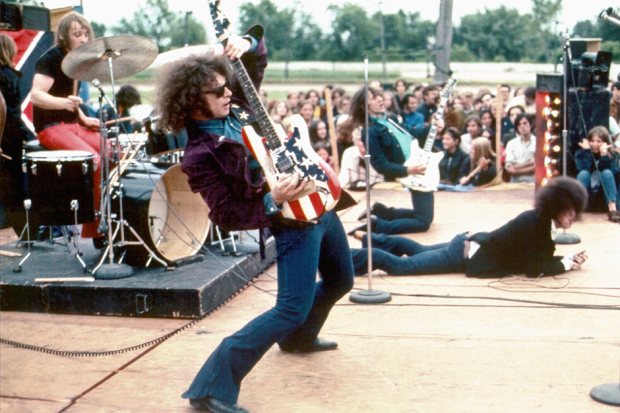 50
Wayne Kramer and Fred "Sonic" Smith (MC5)
Much has been made of the inspiration Kramer and his MC5 co-guitarist Fred Smith took from Sun Ra's left-field astral-jazz soundscapes. But MC5's best riffs are down to earth, with Kramer and Smith channeling the urban decay of their Detroit home base through a proto-punk roar that's as much about drive and forward momentum as it is about traveling the spaceways.
Most Heroic Moment: "Kick Out the Jams" may be the MC5's rallying cry, but 1969 B-side "I Just Don't Know" is the harder-kicking jam, motherfuckers. A.B.
49
Zoot Horn Rollo (the Magic Band)
As the focal point of Captain Beefheart's Magic Band, Zoot Horn Rollo melded cubist single-note lines and hot-potato rhythms into a style since copped by arty no-wavers and faux-primitive bluesmen. Lest one think the Captain was the driving force behind that arty-earthy admixture, consider that he floundered for a half-decade after Zoot quit backing him in 1974.
Most Heroic Moment: When, on 1972's "Big Eyed Beans From Venus," Beefheart asks for a "long lunar note." Rollo delivers. D.M.
48
Bob Mould
Mould broke free of the hardcore mold by embracing all manner of guitar squall, stuffing Hüsker Dü's staggering mid '80s run with so much psychedelic energy that many of those songs feel like they're coming apart at the seams. In the process, the Minnesota native developed a signature stream of thick, creamy, kaleidoscopic distortion that's been embraced most recently by young bucks like No Age and Japandroids. Whether he was exploring club culture or pure pop songwriting, Mould's restless, freewheeling spirit ends up finding its way to his fretboard.

Most Heroic Moment: Zen Arcade's 14-minute closer, "Reoccurring Dreams." D.B.
47
Marc Ribot
Ribot is a restless downtown spirit whose music always sounds just as fidgety. One minute he'll be backing Marianne Faithfull on Letterman, and the next minute squeaking balloons against his pickups in the Knitting Factory &#8212 Tom Waits once called him "the Lon Chaney of the guitar," not only for his many faces but also for his uniquely shadowy sound. He's best known for the sharp, erratic squawks and quacks on countless Tom Waits records and the contorted, atonal noise-soul in his various guerrilla improv pieces with John Zorn; but his acoustic solo pieces and mysterious cloudbanks alongside Los Cubanos Postizos showcase a beauty that's just as unpredictable. Most Heroic Moment: The farty, rusty, no-wave, carnival-ride noises powering Waits' 2004 deliriously broken "Top of the Hill." C.W.
46
Dimebag Darrell (Pantera)
After years fruitlessly shredding in best-forgotten hair-metal and Judas Priest–worshipping incarnations of metal giants Pantera, Dimebag Darrell invented a new, hard-edged groove for the group on 1990's Cowboys From Hell, then perfected it on the benchmark follow-up Vulgar Display of Power. His elastic riffs (the iconic "Walk" intro requires touching just one fret) and imaginative solos still resound in chart-topping metal groups like Avenged Sevenfold and Lamb of God, but his music has also been covered by the likes of the Breeders' Kelley Deal and prog-rockers Dream Theater.
Most Heroic Moment: From the intro's squeaky pick scrape to the head-nodding main riff to the unhinged solo: 1992's "A New Level" is a tour de force. K.G.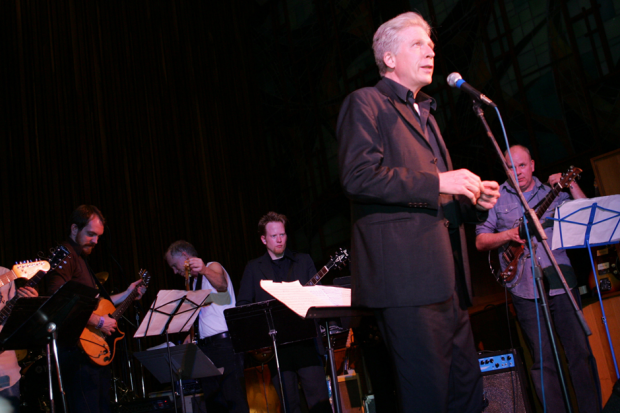 45
Rhys Chatham
A downtown minimalist composer who studied with La Monte Young and Tony Conrad, native New Yorker Chatham didn't discover rock'n'roll until an epiphanous Ramones gig at CBGB. Chatham then began to compose for electric guitar, writing dramatic interlocking parts that harnessed punk's simple rhythmic drive. Influencing the scores of legends who passed through his ensembles — including sometimes-nemesis composer Glenn Branca and Sonic Youth's Thurston Moore — by the end of the '80s, Chatham was working with 100-guitar orchestras, chugging out bright, monumental waterfalls of transcendent sound.
Most Heroic Moment: "Guitar Trio," arguably the center of the modern guitar canon, boils punk and minimalism into a perfect three-piece arrangement. J.J.
44
John McLaughlin
After proving himself a uniquely "far-in" guitarist on landmark Miles Davis explorations such as Bitches Brew, the British-born McLaughlin adopted Sri Chinmoy as his spiritual master and altered the course of jazz-rock fusion with the fiery India-influenced electric music he made with Mahavishnu Orchestra. Mahavishnu John was as devastating an acoustic player as an electric one, and his subsequent career seems to have been a long, slow, increasingly peaceful deceleration from the dizzying volume and velocity of the early '70s.
Most Heroic Moment: "Meeting of the Spirits" from Mahavishnu's 1971 debut, The Inner Mounting Flame. R.G.
43
Nels Cline
An utterly fearless musical adventurer, Nels Cline has appeared on more than 150 jazz, alt-rock, pop, punk, country, and experimental albums during his four-decade career — and not just because he can play anything you throw at him. Cline is the kind of artist who can wring unexpected beauty from any material he touches. Since joining Wilco in 2004, Cline has been the band's MVP, consistently keeping Jeff Tweedy & Co.'s music from veering into "brunch rock" territory with his seemingly limitless arsenal of arresting solos.
Most Heroic Moment: The solo on Wilco's somnambulant, chiming 2007 track "Impossible Germany" (2007). D.E.
42
King Sunny Ad&#233
As longtime leader of a wildly influential Nigerian juju band that has included up to a dozen percussive guitarists and melodic drummers onstage at once, Ade is first and foremost a canny communicator uniting multiple musical conversations into single symphonic grooves (outside of West Africa, you also can hear his spirit on Talking Heads and Phish albums). And although Western audiences have missed out on many of his better African releases, Ade's more recent stripped-down, born-again sound still has much to recommend.
Most Heroic Moment: "365 Is My Number" from his American breakthrough, 1982's Juju Music R.G.
41
Nile Rodgers (Chic)
In the early '70s, a young jazzbo swapped his hollow-bodied Gibson Barney Kessel for a solid-body Fender Strat, picked up a strumming style called "chucking" (playing 16 notes to the bar while accenting the main part of the rhythm) from pal Bernard Edwards, pared his chords and licks down to the bone, and went on to become disco's only guitar hero. Chic hits like "Le Freak" and "Good Times" acquired much of their Studio 54 sheen from Rodgers' effortlessly lucid approach.
Most Heroic Moment: David Bowie's "Let's Dance." R.G.
40
Tom Morello (Rage Against the Machine)
Before the '90s devolved into a frenzy of slack-jawed, down-tuned Korn klones, Rage rose above the rap-metal riff-raff with a freakazoid guitar style that actually sounded like two turntables and a mixer going haywire. Morello cites Led Zeppelin as an inspiration for his unconventional style — which makes sense if you only consider the extended live version of "Dazed and Confused." — but he is just as quick to shout out Public Enemy's siren-crazed production team the Bomb Squad

Most Heroic Moment: The solo 2:10 into RATM's 1999 wrecker "Mic Check," at which point Morello's guitar pretty much fully morphs into a DJ booth. A.B.
39
Carrie Brownstein (Sleater-Kinney, Wild Flag)
Carrie Brownstein has spent the last 12 years of her life playing in bands with no bassist, using the bonus space to weave searing lead lines and wily counterpoints around her bandmates. She started out in Sleater-Kinney as a punky player with clever riffs and ended a bona fide shredder, peeling off psychedelic solos worthy of her Townshend-style windmills. In Wild Flag, she's found a fascinating foil in Mary Timony's off-kilter style. Insert high kick here.
Most Heroic Moment: S-K's 2005 album The Woods was all Brownstein bluster and beautiful squall. C.G.
38
Stephen Malkmus (Pavement, the Jicks)
For a time, a CD reissue of '70s Oz rockers Coloured Balls' Ball Power carried a sticker endorsement from Stephen Malkmus. (I asked the ex-Pavement frontman about it once, and he had no idea.) That a shout-out from an indie-rock icon could be a selling point for an obscure loutish hard-rock band proves Malkmus' standing among guitar heads. His noisily catchy work with Pavement defined a future generation of shruggy, ill-tuned artists perfecting their imperfections, while the proggy jamming on his solo albums harks back to the past with passion and smarts.
Most Heroic Moment: The way the repeating patterns on the "Witch Mountain Bridge" solo from 2003's Pig Lib keep mutating like badass amoebas. D.M.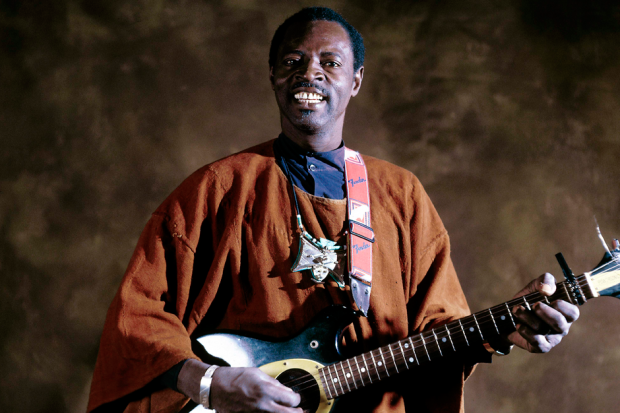 37
Ali Farka Touré
Born in the Tombouctou region of Northern Mali, this flowing, hypnotic player is invariably compared to John Lee Hooker, whose electric boogie blues uncannily mirrored the West African's acoustic trance music while lacking any direct connection to it. Touré's sources, on the other hand, include the deeper wellsprings of Islamic tradition, indigenous one- and three-stringed hunting guitars, a large multilingual repertoire of source material, and an intimate relationship with West African spiritual practices. If only during this marvelous minimalist's lifetime, the source of Delta blues had a GPS location.
Most Heroic Moment: Savane, recorded in 2004 while Touré suffered from cancer. R.G.
36
James Blood Ulmer
Raised in South Carolina, Ulmer cut his teeth playing soul-jazz with Big John Patton and others. In 1972, he moved in with Ornette Coleman to study the saxophonist's unified field theory of jazz, dreaming one night of a guitar tuning based on a single note shared by all six open strings. Newly inspired, country blues, funk, jazz, and free improvisation began to blend in Ulmer's chopping, distracted rhythms and crossed-wire harmonic pyrotechnics. You can hear his strange "harmolodic" brew bubble up in Living Colour's Vernon Reid, Fantômas and TV on the Radio.
Most Heroic Moment: "Revealing," the labyrinthine closing track of 1978's Tales of Captain Black. R.G.
35
Dr. Know (Bad Brains)
When Bad Brains formed in 1977, hardcore wasn't even a word and the Ramones were the fastest band on Earth. But this herb-(!) and Rasta-(!!)fueled crew of jazz geeks(!!!) from Washington, D.C., soon established the new land-speed record. Gary "Dr. Know" Miller raised the bar for all hardcore guitarists to come — not just raging at quadruple speed, but also inexplicably hitting every note.
Most Heroic Moment: 1982's "Sailin' On" — two minutes of pure rage that tear by so fast, you take the blistering solo for granted. A.B.
34
Justin Broadrick (Napalm Death, Godflesh, Jesu)
Few guitarists have played as many styles as Broadrick (Napalm Death's grindcore, Godflesh's industrial-metal, Jesu's shoegaze) and even fewer could sound as miraculously good doing it. But maybe that's because they don't have Broadrick's unique ear for cacophony — scraping metal picks on down-tuned strings, buzzsaw-like chords layered hip-hop–style on top of each other, or just letting his instrument feed back in sunny shimmers. Whatever the secret, he's found fans in bands ranging from Metallica to Isis to Atari Teenage Riot.
Most Heroic Moment: The barely controlled feedback caterwauls of Godflesh's 1991 Sub Pop single "Slateman." K.G.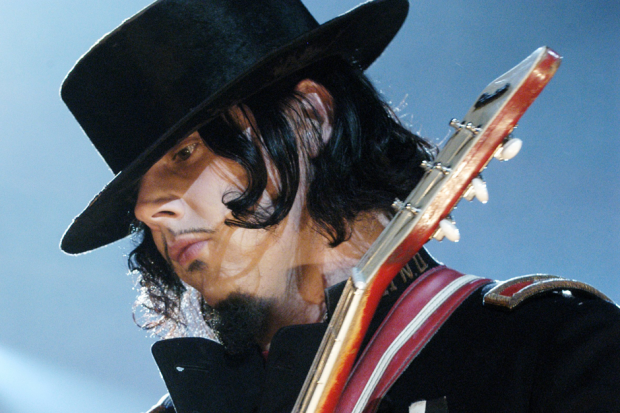 33
Jack White
While White has lent his considerable production and vocal talents to a lengthy list of projects over the past decade, he's at his finest (and most terrifying) when wrestling with his guitar. During the maligned guitar-nerd documentary It Might Get Loud, he described his relationship with his instrument as one of herculean strife. Judging by the immeasurable success he's had at breaking down and juicing up the blues — and also the sheer physicality he brings to that fight — you get the impression he's winning.

Most Heroic Moment: Every crispy second of 2003's "Ball and Biscuit." D.B.
32
Robert Quine
The first guitarist to connect the dots between Chuck Berry, the Velvet Underground, the Stooges, and Miles Davis, Quine played with a fascinating combination of studied beatnik cool and gleefully abrasive anarchy. His penchant for truly ugly sounds made him a natural collaborator for no-wavers Material and Lydia Lunch, but — much like his hero, rockabilly pioneer James Burton — Quine was really at his best when he was cramming spectacularly "out there" solos into straightforward rock'n'roll songs, as he did with Richard Hell's Voidoids, Lou Reed, and Matthew Sweet.
Most Heroic Moment: Quine's solo on Lou Reed's 1982 paranoia-scape "Waves of Fear" (1982). D.E.
31
Derek Bailey
Beginning in the 1950s, British avant-guitar forefather Derek Bailey remained committed to total spontaneity outside the bounds of scales and song-forms, even going so far as to refusing to work with the same groups too regularly, lest they fall into comfortable patterns. Perhaps the most cerebral guitarist of all-time, Derek Bailey rethought nearly every aspect of the instrument, from attack to amplification, literally writing the book on improvisation: Improvisation, published in 1980. The result was a stuttering, often atonal, note-splattered code that — along with free jazz and the theories of John Cage — formed the basic dialect for American improvisers like John Zorn, Marc Ribot, and Nels Cline, and their eggheaded kin on both sides of the Atlantic.
Most Heroic Moment: Jamming sublimely with a rumbling storm outside on 1996's "Rain Dance." J.J.
30
King Buzzo (Melvins)
The monster churn of King Buzzo is feedback-fucked bedrock material for two generations of sludge-metallers, doom-metallers, ambient-metallers and, most notably, a scrappy young muckmaker named Kurt Cobain. Countless '90s garage-rock bands used DOD's Buzz-influenced "Buzz Box" pedal for their half-assed attempts at grunge ("Does my guitar really sound that bad? It sounds like a vacuum cleaner"); half the Southern Lord roster owes evil debt to his woofer-wrecking spectral scuzzblasts; and his Beefheartian push-pull rhythms still walk a jagged line that no one can successfully follow.
Most Heroic Moment: The gloriously bent funhouse mirror riff of "Boris," which essentially spawned the band of the same name. C.W.
29
Jonny Greenwood (Radiohead)
In Greenwood's hands, the guitar becomes something else entirely. As Radiohead morphed from '90s Britpop oddballs to envelope-incinerating, electronics-splashed experimentalists, much of the band's momentum came from the mop-topped mysterio's way with textures, tones, and full-blown symphonic narratives.

Most Heroic Moment: The sidewinding movements of 1997's "Paranoid Android," where the guitar lines seem capable of telling the song's story completely on their own. D.B.
28
Glenn Branca
Branca is best known for the spiritually uplifting, alt-tuned guitar symphonies that influenced Sonic Youth's swarmier moments, but the New York composer had more in common with microtonal instrument inventor Harry Partch than the art-rock that followed. Branca — a reformed theater major — carefully deployed rock drum thunder behind malleted guitars strung with steel wire, modified harpsichords, and other constructions, abusing the instrument to make sound-walls radiating dramatic No Wave noise-bliss.
Most Heroic Moment: The build from whisper to thunder during the second movement of 1987's Symphony No. 6 (Devil Choirs at the Gates of Heaven). J.J.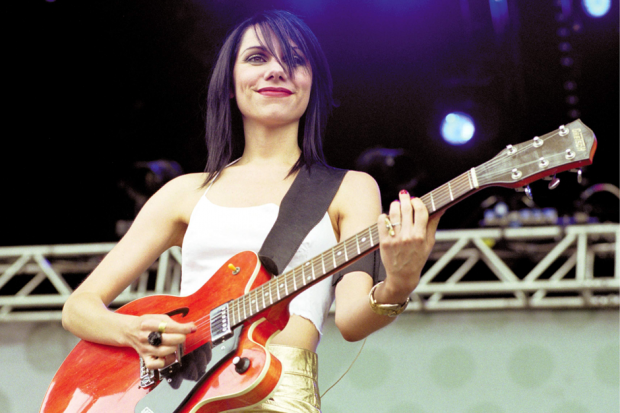 27
PJ Harvey
For her first few long-players, Harvey tapped into a raw, primal, blues-influenced mood that ultimately found its way down to players like Jack White and Dan Auerbach. Harvey is a craftswoman who erred first on the side of minimalism, isolating the tension between her and her instrument in the mix. And whether it left by way of her throat or her fingers there's no way to escape such tight-gripped intensity.

Most Heroic Moment: The seething, inescapable crescendo that is 1993's "Rid of Me." D.B.
26
Johnny Marr
If the Smiths' music sounded the way Morrissey's lyrics felt, no one would have made it through the first single without slashing their wrists. The band's tension — the good kind, not the kind that forces terse reunion-rumor denials every nine months — stemmed from the bipolar interplay between world-weary tales delivered wearily and Marr's clear, chiming guitar lines, skipping merrily and busily along while the group's frontman leads from behind, moping and sighing and kicking cans up the sidewalk.
Most Heroic Moment: While "This Charming Man" is emblematic of Marr's penchant for building entire songs around dizzying runs and the flanged effects of "How Soon Is Now?" are his most memorable, 1985's "What She Said" is as good an example as any of how effortlessly and heavily Marr could rock, no qualifiers needed. S.K.
25
Robert Fripp (King Crimson)
A guitarist so progressive and ballsy as to suggest a "New Standard Tuning" (try CGDAEG on for fit), Fripp was one of the first to challenge guitarists to forget what they know about technique (via his own Guitar Craft workshops) and just play what feels right. He's legendary enough through the rhythmically off-kilter prog textures of King Crimson, but created an alt-legacy through his innovations with Brian Eno — especially the "Frippertronics" tape loop that makes their 1973 outing No Pussyfooting so glorious and motion sickness-inducing, an approach that resounds in ambient music to this day. Even as a pop-rock sideman with David Bowie ("Heroes") and Blondie ("Fade Away and Radiate"), he played everything except what listeners expected.
Most Heroic Moment: King Crimson's dizzying "Frame by Frame," played in 7/4 and featuring Fripp crisply playing about ten notes per second. K.G.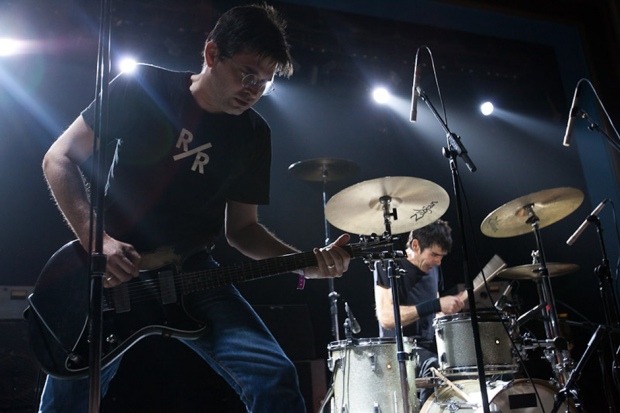 24
Steve Albini (Big Black, Shellac)
"I am a bit of a guitar cripple," Albini said in 1988. "I'm limited to making noises." Crippled or not, his noises remain unlike any other's. From the moment he first battered his strings with a notched metal pick(!) on Big Black's earliest recordings through the heart-wrenching post-hardcore of his current band Shellac, Albini's abrasive approach has sounded like a cross between classic-rock release and evolving new methods of torture.
Most Heroic Moment: The jangly, metal-on-metal intro riff to Big Black's 1986 churner "Kerosene." K.G.
23
Robin Guthrie (Cocteau Twins, This Mortal Coil)
In the mid 1980s, filmmaker David Lynch was so enamored with This Mortal Coil's "Song to the Siren" — featuring Guthrie's wondrous, muted, airy interpretation of Tim Buckley's playing on the original — that he created his own similar sound with composer Angelo Badalamenti, forever replacing the Hollywood dream sequences' proclivity for plinky harps. But not even Lynch could capture the lush, multi-layered textures that the guitarist creates with his main gig, ethereal art-rockers Cocteau Twins. The soundscapes are so layered that, in 1996, Guthrie described them best: "like an onion."
Most Heroic Moment: The swirling, dense, onionlike backdrop for Cocteau Twins' 1990 album opener "Cherry-Coloured Funk." K.G.
22
Jimmy Nolen (James Brown)
After years on the chitlin' circuit with Johnny Otis and others, the first and greatest funk guitarist's metallic chicken-scratch riffs laced together James Brown's polyrhythmic bedrock from 1965 until Nolen's death in '83 (minus a two-year stretch when the whole band quit in protest). Thin, reserved, and hiding a heart condition (even from his wife), Nolen aspired to play guitar with the hypnotic, hard-grooving precision of a drummer — and succeeded astonishingly.
Most Heroic Moment: The controlled frenetics in the bottom half of "I Feel All Right" from Brown's 1968 Live at the Apollo, Volume II. R.G.
21
Sonny Sharrock
Sharrock, who died of a heart attack at 53 years old in 1994, was long a fave of free-jazzers for his heart-stoppingly dramatic structures. But it was his gift for chiseling mysterious, ancient-sounding melodies out of monolithic noise that garnered him the love of rock freaks, even landing his 1991 masterwork Ask the Ages on SPIN's "90 Greatest Albums of the '90s" list. At the time, his bassist, Charnett Moffett, said, "Sonny was aware that he was documenting something on a higher level." Thurston Moore, among others, was hungry to get there, too.
Most Heroic Moment: The majestic dive from delicacy into devastation halfway through Ask the Ages' "Who Does She Hope to Be?" D.M.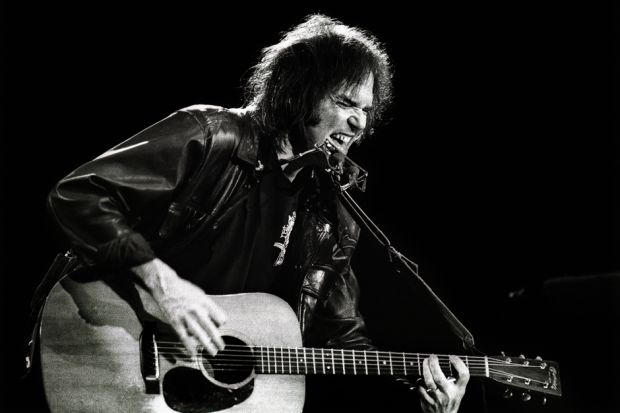 20
Neil Young
For more than 40 years, guitarists have made a good living ripping off members of his guitar-generation cohort (Hendrix, Clapton, Beck) with uncanny precision. But no one sounds quite like Neil, and not for lack of trying. Alt-country pickers have taken his rolling, pluck-and-strum acoustic work, and grunge jacked his lumbering electric distorto-jams. But no one combines those elements like Shakey, and that slow, craggy soloing style — the aural manifestation of the man's skewed thought process — is straight-up sui generis.
Most Heroic Moment: The graceful, arcing lines that open the second solo on 1979's "Powderfinger." D.M.
19
D. Boon (Minutemen)
No guitarist further stretched the definition of what you could get away with and justify yourself as "punk" in the early '80s — ripping Van Halen covers, high-bravado, classic-rock soloing, lithe funk, John Coltrane, somber Fahey-style interludes, his dad's country records…and usually in 60 seconds or less. A mutant mix of Buck Owens, John Fogerty, and Television, boon would jerk out his spastic runs and art-funk chunks in a wildly treble-y jangle, ultimately setting the stage for the Red Hot Chili Peppers, Fugazi, and Liars.
Most Heroic Moment: The Ayler-like solos in 1984's "Shit From an Old Notebook." C.W.
18
Tony Iommi (Black Sabbath)
Listen, we could quibble, but there's really no point in arguing. Tony Iommi's down-tuned, low-string riffing with Black Sabbath is the Tigris and Euphrates of doom metal guitar. It all flows from here.
Most Heroic Moment: Iommi's palm-muted bridge on 1973's "Sabbath Bloody Sabbath" still sounds impossibly heavy today. D.M.
17
Lou Reed and Sterling Morrison
For lack of a better term, the Velvet Underground were a rock band. But if it's hard to consider the Velvet Underground and the Kinks as the same genus now, imagine how it must have felt in 1966. Morrison and Reed formed a one-two punch as odd and original as anyone to come since, careening from Brill Building pop to tuneless, art-damaged wailing, or, better, indulging both at the same time. They invented noise-rock, but didn't mean to.
Most Heroic Moment: The discordant squall that 1967's "Heroin" feels more harrowing and disruptive and endless than any narcotic addiction. Presumably. S.K.
16
Frank Zappa
His highly satirical aesthetic was often criticized as being cold, but purely in guitar terms, Zappa was a multifaceted, highly emotional master capable of spiking his über-complex compositions with downright dirty playing. Upon the occasion of his death in 1993, Alice Cooper reminisced: "I saw [Zappa] play one night at a club with Hendrix. Frank got up and did an imitation of him. I'm looking at Hendrix and his mouth was open." For good reason.
Most Heroic Moment: "Debra Kadabra." D.M.
15
Greg Ginn (Black Flag)
Sure, Henry Rollins' barks on adrenaline-pumping Black Flag workouts like "Rise Above" were vicious — but that's only because they had to compete with Greg Ginn's explosive guitar seizures. Something like a punk Jackson Pollock painting, the axeman splattered free-jazz mini solos between rage-fueled hardcore riffs and pointed feedback, playing an instrument that was just as improbable: a see-through guitar with no working volume knobs and interchangeable pickups. Why did he change them? Because his sweat would rust through them too quickly.
Most Heroic Moment: The out-of-control riffing and ear-shattering feedback whinny of 1981's "Thirsty and Miserable." K.G.
14
Kerry King and Jeff Hanneman (Slayer)
To describe Slayer's guitar tandem as "uncompromising" is a gross understatement. From the jaw-dropping speeds at which King and Hanneman play ("Angel of Death" begins at 210 beats per minute) to the cyclones of tinny notes that pass for "guitar solos," the prickly pair took thrash metal to its high-velocity extremes in the mid-'80s and inspired innumerable underground metal bands (and even Tori Amos) to go further and faster. Somehow between their wrist-wrecking flurries, they've uncovered every evil-sounding harmony available on a fretboard.
Most Heroic Moment: All 29 glorious minutes of Slayer's warp-speed thrash masterpiece, 1986's Reign in Blood. K.G.
13
The Edge
It's difficult to imagine the monolith that is U2 ever having had anything to do with punk, but in the late-'70s U.K., Dave "The Edge" Evans masked and flaunted his willful ignorance of how guitars are meant to be played with forgiving delay pedals, forging a sonic trademark so distinctive that his band's name became an adjective. That trademark has since been violated by hosts of imitators (including, too often, the Edge himself), but even U2's most dug-in detractors would allow that parlaying limitation and brazen naiveté into 30-plus years of megastardom is a fairly unprecedented form of sticking it to the Man.

Most Heroic Moment: Every note of 1980's Boy feels like an argument about how guitars in rock music are supposed to sound, but the record's most famous riff is so for a reason: "I Will Follow" made a meal out of the high part of the fretboard and changed the very definition of "power chord." S.K.
12
Andy Gill
Haunting CBGB as a student abroad circa 1976, Andy Gill returned to Leeds to co-found Gang of Four. Fusing metallic art-funk to Situationism, the band's songs got banned by the BBC, and made them a controversial act in bleak industrial England. Their equally radical pop agenda transformed Gill's cunning noise-dub guitar stabs into a global commodity: from Athens, where R.E.M. picked up Gill's sloppy melodicism; to Los Angeles, where Red Hot Chili Peppers Californiciated his meta-grooves into funk-pop; and then back to New York where the Rapture-led dance-punk scene of the early aughts devoured his rhythmic riots.
Most Heroic Moment: The lyrical noise-echos of 1979's "At Home He's a Tourist." J.J.
11
Ron Asheton (the Stooges)
Iggy covered in blood, Iggy covered in peanut butter, Iggy writhing on the floor — while the antics of the Stooges' frontman made these Detroit proto-punks legendary, it was the humid atmosphere carved out by Asheton's guitar that made them truly dangerous. On the landmark Fun House, Asheton's best jams transcended the idea of "riffs" altogether, instead sounding like a swirling mass of sweat, puke, drugs, and scar tissue.
Most Heroic Moment: 1970's "Down on the Street," a slab of echo and overdrive made euphoric by production that brings to mind a concrete sweatbox. A.B.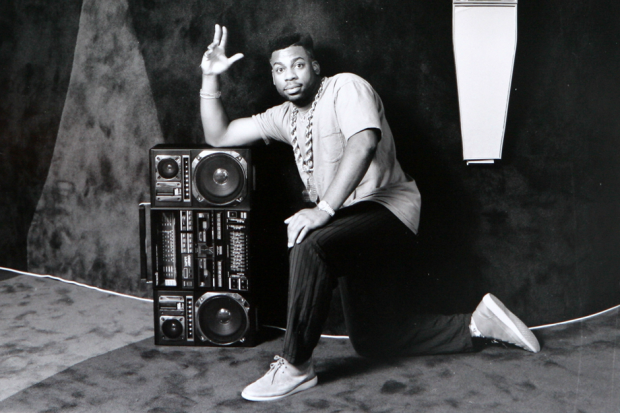 10
Jam Master Jay (Run-DMC)
Run-DMC couldn't have made their position in the universe any clearer: "We're the kings of rock" and "Our DJ's better than all these bands." In 1980s, the always exact, never wack wrists of Jam Master Jay certainly rocked harder than any Mötley Crüe riff, but often thanks to the way Jay manipulated the work of guitarists — Aerosmith's Joe Perry and the Knack's Berton Averre both had work done under Jay's discerning needle. What resulted was a new way of hearing guitars — rubbed and percussive and brutal — an evident influence on everyone from Tom Morello to Korn.

Most Heroic Moment: The B-boy bouillabaisse of "It's Tricky," turning the leaden riff from "My Sharona" into a funky duck and weave. C.W.
9
Eddie Hazel (Funkadelic)
Coming on like a demented mutation of Jimi Hendrix and Tony Iommi, the late Eddie Hazel took funk to a deep, dark, and desolate place on Funkadelic's first three albums, an exploratory musician roaring out everything from smacked-out hopelessness to Afro-futurist euphoria. Many fine axemen have hitched a ride aboard the P-Funk Mothership over the years, but Hazel's six-string conflagrations are what that they — and all other heavy funk guitarists — are still measured by.
Most Heroic Moment: The entire spectrum of human emotion can be heard in "Maggot Brain," Hazel's ten-minute solo showcase from 1971. D.E.
8
Johnny Ramone
By only playing the downstrokes, Johnny Ramone was working twice as hard as your favorite guitarist. Ultimately it was the loudest, fastest, ugliest sound around in 1976, a motor-rev that zoomed like a jet engine but felt like bubblegum. Born on a $50 guitar stuffed in a shopping bag, it was the noise whose influence can be heard on everything from Nirvana to Kelly Clarkson.
Most Heroic Moment: The first ten seconds of "Judy Is a Punk," the most giddily abrasive chainsaw massacre of their 1976 debut. C.W.
7
Tom Verlaine and Richard Lloyd (Television)
Geography found Television swept up in New York City punk's first wave, but Verlaine and Lloyd hardly approached their guitars like angry young men. The pair's fleet-fingered, call-and-response style emphasized long jams, oddball solos, and the spaces between notes — in other words, as punks go, these guys were closer to the Grateful Dead.
Most Heroic Moment: Nine seconds into 1977's "Marquee Moon" — the moment when Verlaine and Lloyd start dueling. A.B.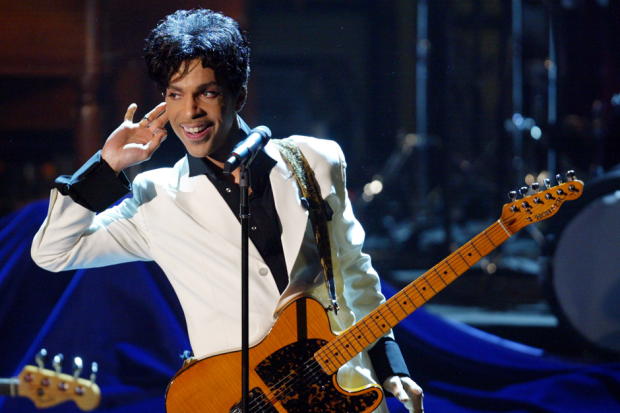 6
Prince
The show-ending jam at the Rock and Roll Hall of Fame induction ceremony is rarely more than a lazy circle jerk, but such is the brilliant flamboyance of Prince's guitar playing that, with his epic solo on George Harrison's "While My Guitar Gently Weeps" at the 2004 HoF show, he hijacked the entire event, and made it his own spectacular wank session. Then, as always, Prince's gloriously brash playing — by turns funky, fluid, and screaming — set the benchmark for six-string swagger.
Most Heroic Moment: "I Could Never Take the Place of Your Man." D.M.
5
J Mascis
In multiple interviews with SPIN over the course of his band's first 15 years, the altogether inscrutable Dinosaur Jr. frontman said that he'd insisted on cranking his guitar to such high volumes because the instrument itself was so "wimpy." (He also spent many moments deep in liquefying solo, thinking of "dinner.") Considered a savant by some, Mascis wields an idiosyncratic, always mesmeric approach that's rendered him a pot-punk pioneer, a guitar titan who's bridged the gaps between Neil Young and Prince and Minor Threat without so much as raising his voice.
Most Heroic Moment: The goosebump-inducing outro solo to 2007 reunion album cut "Pick Me Up." D.B.
4
Kurt Cobain
The "solo" that snakes through the final third of Nirvana's course-changing "Smells Like Teen Spirit" is little more than a sly rip of the song's chorus melody. Frontman Cobain is rarely described as a technical virtuoso, but he did have a fantastic, intuitive feel for the guitar, mirroring his gift for unshakeable John Lennon-inspired songcraft. It looked and felt so natural as an extension of his body (despite the back/stomach/mental pain it allegedly caused him) that every drop of song seemed to show exactly what was happening on the inside — punk's urgency clasping hands with every classic pop melody he ever absorbed.

Most Heroic Moment: Nearly three minutes into Nirvana's nationally televised cover of Bowie's "The Man Who Sold the World" on Unplugged, Cobain's solo found a sour note. If he could fuck up that solo just like we would practicing on our beds at home, then there was something more to rock'n'roll than getting it right. D.B.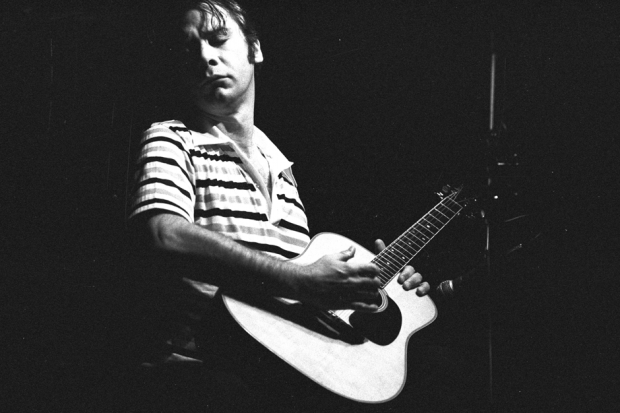 3
John Fahey
John Fahey hunted blues 78s door to door, honed his craft during all-night gas-station shifts, founded a DIY label in 1959, and single-handedly built a world for freethinking acoustic guitarists. Working in what he later called "cosmic sentimentalism" — dubbed "the Takoma school" by others — Fahey liberated American folk, country, and blues music from traditionalists and arced from imagistic proto-minimalist finger-picking to late-career blip-outs with reverent student Jim O'Rourke. His legacy is as complicated and sweeping as his interests and idiosyncrasies, and you can hear him in contemporary collegiate heroes (M. Ward, Will Oldham), hardline acoustic technicians (Glenn Jones, James Blackshaw) and abstract expressionists (Bill Orcutt, Tom Carter) alike.
Most Heroic Moment: The solemn panoramas of "Charles A. Lee: In Memoriam" from 1968's The Yellow Princess. J.J.
2
Kevin Shields (My Bloody Valentine)
For an album with a photo of a guitar on its cover, My Bloody Valentine's signature opus Loveless is what happens when Kevin Shields puts his mind to making that instrument sound like anything but. Thanks to some skillful, ingenious tremolo abuse, the opening siren of "Only Shallow" the moose call of "Touched," and the woozy haze of "I Only Said" are as dramatic and jarring and alien and deeply influential musical moments as anything to come out of the eventful early '90s — and it's telling that Shields has never attempted to top it.
Most Heroic Moment: While MBV's shows were notorious for the 20-minute ear-bleeding "apocalypse section" of the otherwise agreeable single "You Made Me Realise," no Shields song packed front-to-back wallop like Isn't Anything's churning, colon-tickling "Feed Me With Your Kiss" from 1988. S.K.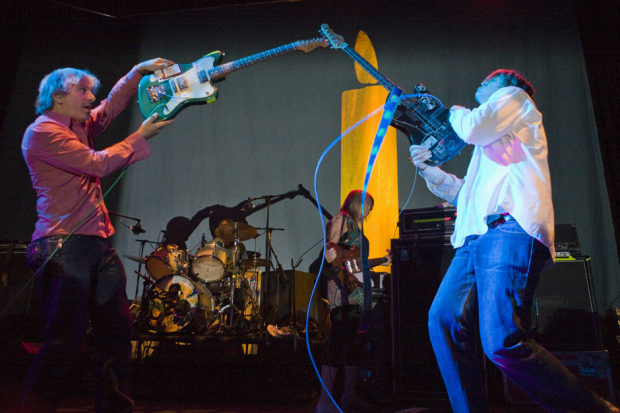 1
Lee Ranaldo & Thurston Moore (Sonic Youth)
It's hard to imagine where we would be without Sonic Youth. It's unlikely another smart post-punk band founded around the same time — Big Black, the Meat Puppets — could have delivered us from hardcore's fury quite the same way. What would indie rock sound like if Sonic Youth's sublime din hadn't enchanted and derailed all the college rock bands of the mid-'80s? We would have only been left with a bunch of sanguine Feelies rip offs, never having the chance to divulge a crush via careful mixtape placement of "Shadow of A Doubt."
Thurston and Lee got their start in Glenn Branca's drone orchestra; early SY practices — pre-Lee — were Thurston and Kim dicking around with a guitar borrowed from Branca, strung entirely with high E strings. Thurston came up on anxious, primal stomp, galvanized by The Stooges' Fun House (his first album) and Suicide (his first show). He moved to New York City in love with Patti and Television, only to find those rarefied rippers had been supplanted at CBs by the nihilist bleat of no wave. Moore's autodidactic riffs have never been nostalgic; he's merely dovetailed from that downtown cacophony. He took that strum und klang, made it epic ("Secret Girl"), and worked dark languor into that scree.
Lee was a teenage Deadhead who whiled the Long Island evenings away noodling along to Europe '72. Soon enough, punk's visceral nature would lure him away from the tie-dye, and he'd make his way to the Lower East Side and come under the spell of Branca. From Sonic Youth's earliest moments/albums, when much of their sound was built on the un-playing — coaxing feedback from a whine to a roar, the buzz of a cable in a loose jack, testing the temper of strings by jamming them with drumsticks& #8212; you can still hear that learned classicism in his playing (see the arpeggiation on "Hey Joni"). Ranaldo grew up on the White Album and Neil Young, he writes all of his songs for SY on an acoustic, which speaks for his putting craft ahead of spectacular damage. Sonic Youth's sound was, in many ways, destroying and sublimating all of rock'n'roll's conventions, and in that regard, Ranaldo's playing — fingers that could never fully forget that perfect major-chord pop — was essential; first you have to learn the rules in order to best know how to break them.
The two were the perfect complement to each other: Ranaldo's harmony and precision pitched against the nullity and oblivion of Moore's playing. The two combining and verging on the edge of control is what made for SY's greatest glories: the 59-second noise blast/"solo" on "Silver Rocket," the cool lassitude of "Expressway To Yr. Skull," Goo's album-closing blitzkrieg "Scooter and Jinx."
While Daydream Nation is still unquestionably the quintessential SY album, it's so because it's such an ensemble piece, everyone flawless and powerful at once. But 1987's Sister is where Ranaldo and Moore most clearly lay out their guitar thesis — it's an album length flirtation between their two styles. The songs have all the efficiency and uplift of the pop form, via Ranaldo; all with Moore working to deform them with mountains of distortion pedals and sharp, gorgeously wrong notes. Sonic Youth's guitar frenzy freed us from punk's inelegance, gave us something exact and un-nameable, gave us some sweltering sensation of life and at the same time, removed us from it. They put soul into our noise.
Most Heroic Moment: Sister album opener "Schizophrenia." Pitting a slowly resolving mistuned jangle against slurring, distant distortion until the "chorus" (it's in the ear of the beholder), when they wind-up, sway, Lee does a little pointillist solo, and then the goad each other, chugging, building the tension until it gives way into a furious freak-out, carnal and electric. In that moment you can hear it all — melancholy, death, lust, possibility. JESSICA HOPPER