SPIN's 100 Greatest Guitarists of All Time
SPIN doesn't worship "guitar gods" — we like our axe-wielders to be flawed, resourceful, egalitarian, and human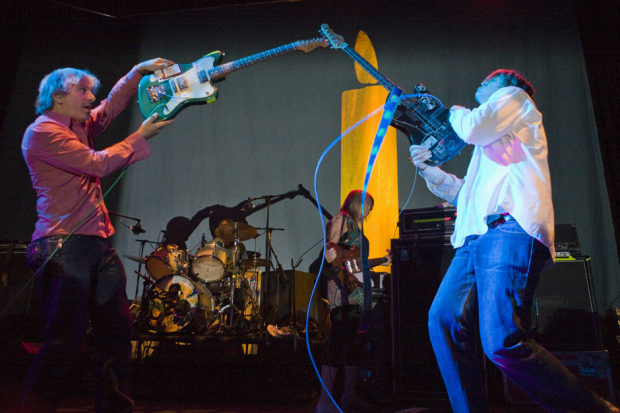 1
Lee Ranaldo & Thurston Moore (Sonic Youth)
It's hard to imagine where we would be without Sonic Youth. It's unlikely another smart post-punk band founded around the same time — Big Black, the Meat Puppets — could have delivered us from hardcore's fury quite the same way. What would indie rock sound like if Sonic Youth's sublime din hadn't enchanted and derailed all the college rock bands of the mid-'80s? We would have only been left with a bunch of sanguine Feelies rip offs, never having the chance to divulge a crush via careful mixtape placement of "Shadow of A Doubt."
Thurston and Lee got their start in Glenn Branca's drone orchestra; early SY practices — pre-Lee — were Thurston and Kim dicking around with a guitar borrowed from Branca, strung entirely with high E strings. Thurston came up on anxious, primal stomp, galvanized by The Stooges' Fun House (his first album) and Suicide (his first show). He moved to New York City in love with Patti and Television, only to find those rarefied rippers had been supplanted at CBs by the nihilist bleat of no wave. Moore's autodidactic riffs have never been nostalgic; he's merely dovetailed from that downtown cacophony. He took that strum und klang, made it epic ("Secret Girl"), and worked dark languor into that scree.
Lee was a teenage Deadhead who whiled the Long Island evenings away noodling along to Europe '72. Soon enough, punk's visceral nature would lure him away from the tie-dye, and he'd make his way to the Lower East Side and come under the spell of Branca. From Sonic Youth's earliest moments/albums, when much of their sound was built on the un-playing — coaxing feedback from a whine to a roar, the buzz of a cable in a loose jack, testing the temper of strings by jamming them with drumsticks& #8212; you can still hear that learned classicism in his playing (see the arpeggiation on "Hey Joni"). Ranaldo grew up on the White Album and Neil Young, he writes all of his songs for SY on an acoustic, which speaks for his putting craft ahead of spectacular damage. Sonic Youth's sound was, in many ways, destroying and sublimating all of rock'n'roll's conventions, and in that regard, Ranaldo's playing — fingers that could never fully forget that perfect major-chord pop — was essential; first you have to learn the rules in order to best know how to break them.
The two were the perfect complement to each other: Ranaldo's harmony and precision pitched against the nullity and oblivion of Moore's playing. The two combining and verging on the edge of control is what made for SY's greatest glories: the 59-second noise blast/"solo" on "Silver Rocket," the cool lassitude of "Expressway To Yr. Skull," Goo's album-closing blitzkrieg "Scooter and Jinx."
While Daydream Nation is still unquestionably the quintessential SY album, it's so because it's such an ensemble piece, everyone flawless and powerful at once. But 1987's Sister is where Ranaldo and Moore most clearly lay out their guitar thesis — it's an album length flirtation between their two styles. The songs have all the efficiency and uplift of the pop form, via Ranaldo; all with Moore working to deform them with mountains of distortion pedals and sharp, gorgeously wrong notes. Sonic Youth's guitar frenzy freed us from punk's inelegance, gave us something exact and un-nameable, gave us some sweltering sensation of life and at the same time, removed us from it. They put soul into our noise.
Most Heroic Moment: Sister album opener "Schizophrenia." Pitting a slowly resolving mistuned jangle against slurring, distant distortion until the "chorus" (it's in the ear of the beholder), when they wind-up, sway, Lee does a little pointillist solo, and then the goad each other, chugging, building the tension until it gives way into a furious freak-out, carnal and electric. In that moment you can hear it all — melancholy, death, lust, possibility. JESSICA HOPPER