SPIN's 100 Greatest Guitarists of All Time
SPIN doesn't worship "guitar gods" — we like our axe-wielders to be flawed, resourceful, egalitarian, and human
90
Trey Azagthoth (Morbid Angel)
Hendrix, Van Halen and, uh, Mozart are the musicians to thank for most heavily influencing death-metal shredder Azagthoth, not that they really come through in the jagged riffs and cheetah-fast solos of Morbid Angel classics like "World of Shit" and "Where the Slime Live." But that's because he has blazed a tension-filled style all his own (when he solos, he enters a mystical mind state he calls the "Temple of Ostx") that is finally getting more praise than early antics like cutting himself with a razor before hitting the stage and extolling Satanism.
Most Heroic Moment: The whammy damage and jaw-dropping speed of his solo on "Vengeance Is Mine," from 1993's Covenant. K.G.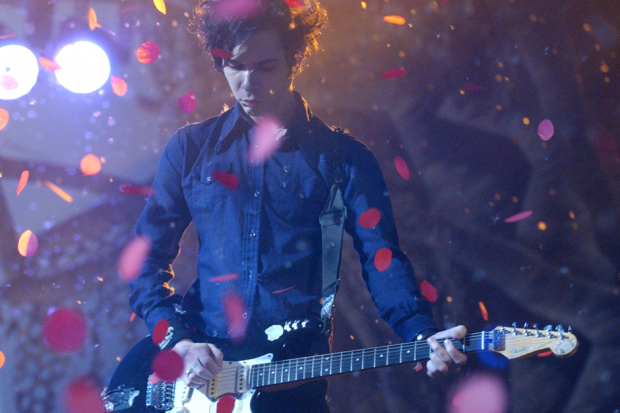 89
Nick Zinner (Yeah Yeah Yeahs)
The Yeah Yeah Yeahs' theatrically coiffed guitarist has several grueling jobs, among them holding down the trio's entire melodic structure and holding his own against one of the most dynamic frontwomen of our time. His signature see-saw call-and-response lines leave plenty of room for tension and release, war cries, and tears, and the kind of grand, clanging chords that'll turpentine your ears clean.
Most Heroic Moment: "Bang" — the first slightly out-of-tune note Zinner whanged on the band's self-titled 2002 debut EP was the New York rock scene's real wake-up call. CARYN GANZ
88
Dylan Carlson (Earth)
Rock's ultimate minimalists, Earth reduced heavy-metal thunder to a blissful rumble in the clouds. Their pioneering 1993 drone suite Earth 2 — pulseless, fearless, relentless — was little more than Dylan Carlson's guitar chugging away on a note or two for 73 monolithic minutes. Relieving metal and grunge from any pretense that wasn't distortion, menace, or catharsis, Carlson found a headbanger/shoegazer home between the primal and the O)))therworldly.
Most Heroic Moment: Earth 2's closing half-hour, a suffocating blast of gauzy, gazy amplifier worship. C.W.
87
Marnie Stern
Two-handed tapping was the hoariest of heavy-metal clichés until Marnie Stern reclaimed the concept on behalf of indie-prog bedroom shredders everywhere. No one would ever confuse Stern's chops with Eddie Van Halen's, but that's kind of the point: If Stern's shredding exudes the agreeably skewed internal logic of the self-taught, it also allows her to utilize the two-handed technique far more creatively than the pseudo-classical chest-puffing that usually comes with Dokken territory.
Most Heroic Moment: The gloriously wheedly "Vibrational Match" from 2007. D.E.
86
Ian MacKaye and Guy Picciotto (Fugazi)
Like Television not too long before them, Fugazi founders Ian MacKaye and Guy Picciotto engaged in a locomotive, dub-influenced dual-guitar shouting match. Though most of the talk around Fugazi inevitably leads back to their founding ethos, that way of thinking and operating permeated the music as well: Together, MacKaye and Picciotto were anti-frontmen, playing like a living, fire-breathing, two-pronged embodiment of democracy.
Most Heroic Moment: The simple, searing lines of 1990's "Turnover." D.B.
85
Stone Gossard (Pearl Jam)
Many arguments can be made for Peej's gifted lead guitarist (and corn-dogging, cheese-mongering Stevie Ray Vaughan acolyte) Mike McCready, but it's Gossard whose songwriting and toothsome licks propelled the Seattle grunge icons early, record-setting releases. The winsome chords of both "Daughter" and "Black," the white-knuckle smash of "Animal" or "Deep" or "Do the Evolution" — all were anchored by Gossard, a quiet type more invested in classic-rock craft than classic-rock showmanship.

Most Heroic Moment: The opening chords to 1991's shoulda-been-a-single "Breath." D.B.
84
Lydia Lunch
Lydia Lunch once beat her Teenage Jesus & the Jerks bandmates with coat hangers during practice; and her confrontational attitude was only matched by her completely unfettered guitar playing. Calling the instrument "a grand assaultive weapon," she treated it as such, often attacking the strings with knives or even shards of glass, refusing to even bother learning chords, using it as a blunt force to express a total anti-pop, anti-punk, anti-everything rage.
Most Heroic Moment: All 39 seconds of police-siren squall on Teenage Jesus' "Red Alert" from 1978's No New York. J.J.
83
Josh Homme
"Stoner rock" has to be the most useless classification in the long history of futile attempts to describe what music sounds like. (What rock isn't stoner rock, amirite?) Despite the misleadingly mellow connotation, the term is really just shorthand for Josh Homme's thick-necked guitar playing, first in Kyuss, but more famously in Queens of the Stone Age, blending '70s-vintage proto-metal sludge with high-desert lawlessness, Black Sabbath playing Jesse Pinkman's house party. Tall, ginger, and wielding a sense of humor as dry as his Mojave stomping grounds, Homme doesn't exactly look the part of an alt-metal godhead, which only makes the poison easier to swallow.
Most Heroic Moment: His hits would get bigger and his star would rise higher, but Homme's opening riffs would never get more indelible than the snarling intro to "If Only" from Queens' 1998 self-titled debut. STEVE KANDELL
82
Kristin Hersh (Throwing Muses)
The way Kristin Hersh rubs major and minor notes next to each other in her intricately plotted songs is truly haunting; a ghostly approach that didn't even require selling her soul at the Crossroads. Blending plucky arpeggios and bluesy slides with punishing strumming, Hersh's playing has actually gotten more aggressive as she's eased into her 40s with 50 Foot Wave.
Most Heroic Moment: 1995's "Shimmer" makes it easy to forget Hersh handles all the guitar work in the Muses herself, shifting effortlessly from lead to rhythm and back like an Indy 500 star. C.G.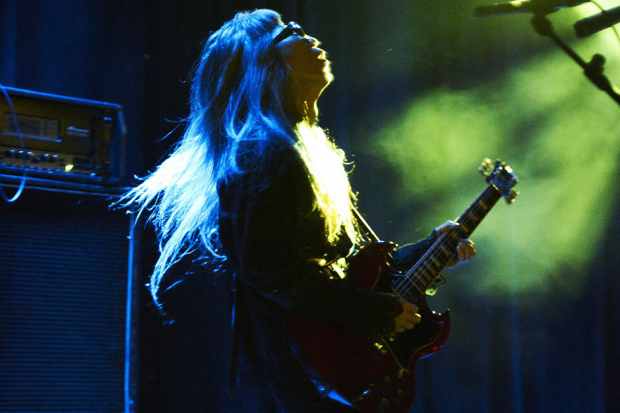 81
Keiji Haino
A towering figure in the Japanese underground beginning in the early '70s, Keiji Haino plays guitar — often distorted to the point of pure sound — with such a wild diversity that it's misleading to call him merely a "noise guitarist." But he is very, very, very noisy. With personas that include blues-sludge hero, noise-blast deployer, and big-eared post-psychedelic improviser, Haino's renown (and collaborations) spread far beyond Japan, most notably with albums recorded by Fushitusha, his all-improv/nominally rock outfit.
Most Heroic Moment: The untitled third track on Fushitusha's 1989 Double Live swelling from silence to silver tone-cloud without losing a bit of tenderness. J.J.