Fight Songs: How Songwriting Is Saving War Vets' Lives
All over the country, soldiers who are suffering from the physical and emotional ravages of war are learning to deal with their pain by writing songs and playing music. Even more surprising: It's working.
When I talk to Smith a little later, he says that these are the moments that he works toward the whole weekend. "Our goal is to have this experience," he says. "For them to remember, 'These guys who weren't in the military came, hung out with me, and we got along. They saw me and we wrote this song.' Maybe they see, 'Oh, I can do this!' and that's cool, but that's their thing. What I pursue is the moment of this soldier seeing me as a civilian seeing him and listening to him."
The songs will all be recorded on the retreat's final afternoon, so the soldiers can have them to listen to whenever they want.
"We all have songs we listen to, that we carry with us," says Smith. "Maybe they'll listen to it a little, maybe a lot. Maybe five years from now, they'll find that they haven't listened to it in a year and they'll go, 'Wow, I remember when I was like that.' That's really the long-term effect."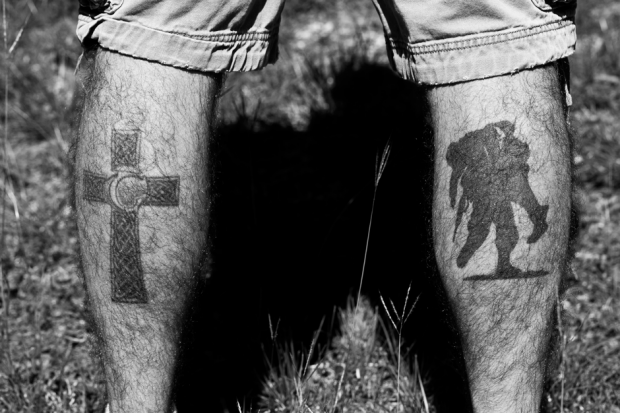 Songwriting With: Soldiers is one of dozens of small grassroots, nonprofit efforts going on around the country to use music and songwriting to help soldiers and veterans deal with the physical and psychological effects of war.
Arthur Bloom, a classically trained musician who once worked at Def Jam, runs a nonprofit organization called Musicorps, which is based at Walter Reed. He works with soldiers who, in addition to their psychological and emotional trauma are also often suffering from, what he terms, "the most severe injuries that have ever been survived by humans in history." These include horrific burns, multiple amputations, and cognitive impairments that require years-long residence at Walter Reed. Music, Bloom says, helps these soldiers recover some semblance of a normal life.
"What we do is active music-making — writing, recording, and playing," he says. "That can fill up this empty time that — even if you weren't injured — you'd go out of your mind. It's something fun and productive that can get your life started again. On a physical level, playing instruments helps with dexterity. In some cases, we have experts create custom prosthetics to get guys who have missing arms playing instruments."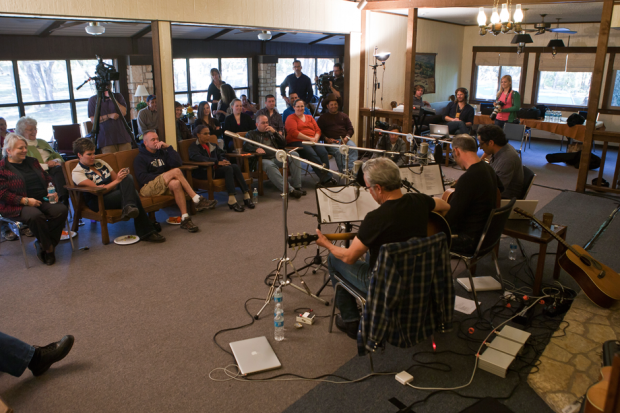 The goal isn't just to be able to play music, it's to be able to play it well, which has all sorts of effects on soldiers' self-esteem.
"By showing them they can do something at a high level again, they can go on and do whatever they want to do, no compromise," Bloom says. At a recent charity concert in New York called Stand Up for Heroes, a group of soldier-musicians from Musicorps backed Pink Floyd's Roger Waters during a set of songs to raise money for the Bob Woodruff Foundation. The organization, which was founded by Woodruff, a former ABC reporter who was wounded covering the war in Iraq, is the primary funding source not only for Musicorps, but also for Songwriting With: Soldiers.
Vaudreuil, who has been running her program, Resounding Joy, since 2010, works with ex-Guns N' Roses and Cult drummer Matt Sorum to help write and record some of her clients' music. Sorum is planning on putting together the best songs on an album with contributions from a handful of well-known stars; he's also making a documentary. But on a day-to-day level, Sorum believes the work itself has already had a tremendous impact.
"You see the changes right away in the soldiers," he says. "The feeling of them being able to put pen to paper and then sing that song is the most cathartic thing in the world."
Dustin Welch, a singer-songwriter based in Austin who has been running weekly songwriting workshops for veterans at several locations throughout Texas, says that he's seen that type of catharsis time and again.
"There's something about being able to sing a song that really moves you," he says. "You feel better when you get done with it. You're able to capture this feeling that you can almost hold in your hand and bring to someone and say, 'This is what I've got. This is what's been going on.'"
:audio=4:
That act of sharing the song may be as important as writing it. Vaudreuil's program, in particular, focuses on getting her clients to the point where they can go out and perform their songs for others. The point isn't adulation but connection.
As she puts it, "To really have people in their family and close to them in their communities understand what they're going through without having to sit there and be like, 'I wanted to blow my head off yesterday,' really helps."