Fight Songs: How Songwriting Is Saving War Vets' Lives
All over the country, soldiers who are suffering from the physical and emotional ravages of war are learning to deal with their pain by writing songs and playing music. Even more surprising: It's working.
Songwriting With: Soldiers has its roots in one of the worst gigs Darden Smith ever played. A bespectacled, liberal-leaning Austin native, Smith was — through a series of unlikely events — playing a lunchtime show at Landstuhl Air Base in Germany for soldiers just back from Iraq and Afghanistan in 2007.
"I was playing this concert for them and they weren't paying attention," he recalls. "It was terrible, actually. It was a waste of everybody's time. I was packing my guitar up at the end of the concert, thinking, 'I have nothing in common with these people and they have nothing in common with me,' when this Marine came up to me and we started talking about my guitar."
As it turned out, the two had lots in common — friends, guitars, musical taste. The conversation led to Smith meeting up with the Texas National Guard when he returned home, which in turn led to Smith and Foster writing the song, "Angel Flight," which Foster recorded for his 2009 album, Revival. The song, which chronicles the trip back home for soldiers killed overseas, became a favorite in military circles, and in its wake, Smith was asked to do a songwriting retreat in Colorado for active-duty soldiers and veterans.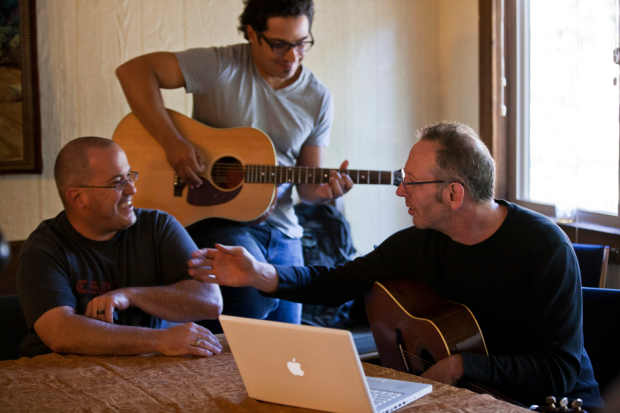 "The work was so incredible, but it was too powerful for one writer to work with multiple people over the course of three days," he says. "By the end of the second day, I was totally overwhelmed with the power of what they were telling me."
When he went back to do a second workshop, Smith enlisted help from Foster and Jay Clementi, a Colorado-born, Nashville-based songwriter who'd written songs for Dierks Bentley, Luke Bryan, and Martina McBride. The three did two retreats in Colorado together before Smith decided to form his own organization, Songwriting With: Soldiers. The idea was not just to give soldiers returning from war a creative and emotional outlet, but also to forge a connection between the 0.5 percent of the American population who have served, or are serving, in the military and the 99.5 percent who haven't. With multiple, protracted wars overseas during the past decade, it's worth recognizing that never in this country's history has so much been asked of so few, while so little was asked of so many.
The soldiers at the Texas retreat include both those on active-duty and a few recent veterans. All of them are, or were, stationed at Fort Hood, and were referred by Vandiver, who has a private practice in nearby Harker Heights. (The military couldn't refer soldiers themselves, as it would be seen as an endorsement of Smith's program, but two psychologists from Fort Hood are present throughout the weekend as support staff.) All the soldiers showed up at the lodge on Friday evening of their own volition but most were understandably anxious.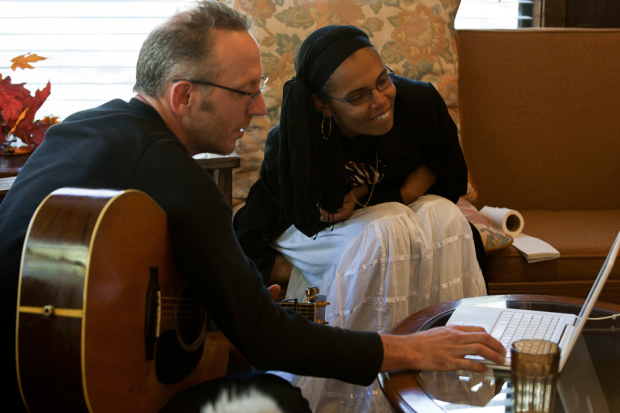 "I didn't know what to expect," says Hartman. "When I got here, I was so apprehensive that I told my wife, 'Don't be surprised if I come straight home.'"
As a group, the soldiers defy easy characterization. There is McRae, a square-jawed, Orange County native with the compact build of a bulldog, who looks pretty much like he was plucked from central casting to play the role of the grizzled platoon sergeant (which he's actually been in real life). Then there is Chief Warrant Officer Fatuma Salim-Shirazy, a lithe, 50-year-old, Kenyan-born Muslim woman who wears a hijab and has spent the past 20 years in the army, including tours in Somalia and Iraq. Hartman is a talkative, thrice-divorced, 42-year-old, ex-skateboard punk with closely cropped hair and an injured back that necessitates walking with a cane. Staff Sgt. (Ret.) Jaime Santiago, 33, is a tall, quiet Puerto Rico native who was recently medically discharged from the army after 12 years of service that included two tours in Iraq driving a tow truck. The two things the nine participants have in common are a PTSD diagnosis and no songwriting experience whatsoever. For Smith, who has already run songwriting programs for homeless teenagers and South African villagers affected by AIDS, the soldiers' lack of songwriting experience was not a hindrance — it was the point.
"It's really fascinating to write with people who don't know music, but have experienced some really powerful moment in their life," he says. "They speak about that trauma in a very simple way, and use common phrases, slang. That's a goldmine for songwriting. The naiveté is where the magic is."
Of course, it takes next-level talent to pull these songs out of the soldiers, and watching Smith, Foster, and Clementi do it repeatedly over the course of the weekend manages to both demystify the process and simultaneously make it more impressive. Songs often go from zero to completed in less than an hour; and while you could nitpick some of the lyrics or phrasing or musical choices, the quality of the final product is consistently astonishing.