Pissed Jeans: The Curious Case of an Unrequited Hard-On
The upstanding family men and office workers of this noise-punk enterprise rarely play live and keep their musical pursuits mostly private. But could this finally be Pissed Jeans' turn in the center of the squared circle? DAVID BEVAN meets the band that has created 2013's most searing, searching, terrifyingly nuanced hunk of hardcore fury. For adults only. Dessert will be provided.
Just before midnight, Kosloff gathers all of the ballots and takes them upstairs to tally. The house is completely full. In the kitchen, women are starting to pound what's left of the beer. In the entryway, a cluster of musicians including Jesse Trbovich of Kurt Vile's Violators and Purling Hiss' Mike Polizze are having a very serious conversation about guitar pickups and gastropubs. Fry, gregarious in a black hoodie and jeans, is discussing the nuances of puff pastry, and Calamity, a grey shorthair cat that Kosloff and Maria recently adopted to rid the house of mice (immortalized on Honeys' pet-allergy ode "Cathouse"), slinks around after sneaking out of the cellar.
From the staircase, Kosloff asks for silence. "You may remember that last year, we had a secret category and the person who ate the most won a prize," he says. "This year, it's different. This year it goes to the person who ate the least. It's a tie, between Max and Richie, and they receive a book of the 50 Best Salad Dressings. Congratulations to you guys, you didn't eat a single thing." Everyone laughs; Kosloff keeps it going, never cracking a smile. "Most Decadent," he says, "goes to Devon's peanut butter-iced blondies. Congratulations, you receive a corn scrub brush, to remove the silk from corn." Most Creative is a landslide victory for Jenn's Orange Cake, a massive, fondant-encased monolith too pretty to eat, but winner of a bird-shaped pie whistle. And when Kosloff announces that Kristen's buttered-popcorn cookies have won Best in Show, the house erupts as she collects her booty: a brick of pink, Himalayan salt. Minutes thereafter, everyone files out of the house and into the night.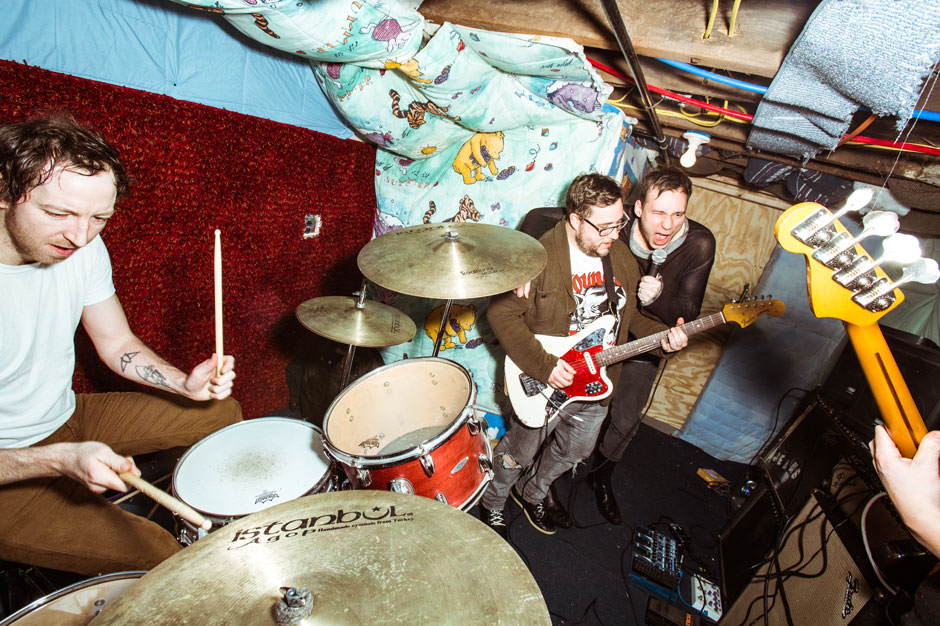 The next morning, Kosloff is up early, tending to Anders so Maria can sleep. He's in pajamas and slippers on a loveseat near a window, watching closely as his son paws at the cat on the floor. "I think we're just going to clean up and chill out today," he says. "We need to regain some sense of normalcy after having been in a party mindset. I'm so exhausted. I woke up and thought, 'Wait a minute?' What's in here?'" He rubs his belly. "Oh, yeah. Sugar and butter and booze."
I ask him if he's heard the story yet of Anders falling asleep in his carseat as Honeys played on the car stereo. "Yeah," he says dryly. "I accept that."