Superrappin': 8 Essential Oldest-School Rap Albums
Still think Run-D.M.C. made the first classic rap album? Don't believe the hype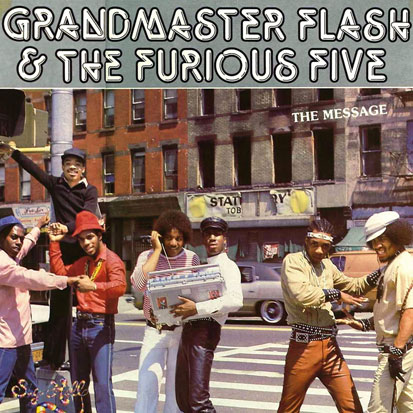 Grandmaster Flash & The Furious Five
The Message (Sugar Hill, 1982)
Their debut full-length omits their first several singles, including the groundbreaking "Wheels of Steel" and the dexterous "Super Rappin'" series, little of which bodes well for this LP. But somehow Flash and the Five got one of rap's first great pop albums out of it regardless. Yep, pop: First song kicks off a sort of Rick James tribute with a Jimmy Castor interpolation; second one has group members introducing themselves in five distinctly buoyant and often humorous voices ("I'm Cowboy, the real McCoy, chocolate all over like an Almond Joy") and Melle Mel rapping in French over the Tom Tom Club's "Genius of Love" beat. Then they hitch their Vocodered Zapp-rap move to a zodiac sign title from Dennis Coffey and sound both bubbly and avant-garde doing it; then a Spinners update about how kids are the future, which doesn't feel so positive once preachers and teachers start making the future sound horrible since we'll never stop dropping bombs. Side Two: Sweet pop-funk dedicated to Stevie Wonder ("Hey Flash, do you think we'll ever meet Stevie?"); some absolutely sincere talked-not-rapped piano gospel for Jesus from Raheim (in all the ladies' dreams), one of at least two Fivers blessed with surprisingly agile singing voices; then "The Message" itself. "Broken glass everywhere, people pissing on the stairs, you know they just don't care." Synth riff worthy of their Rock and Roll Hall of Fame induction on its own. "Subterranean Homesick Blues" cadences. "HUH-huh-huh-HUH-huh-huh." You know the rest — or should.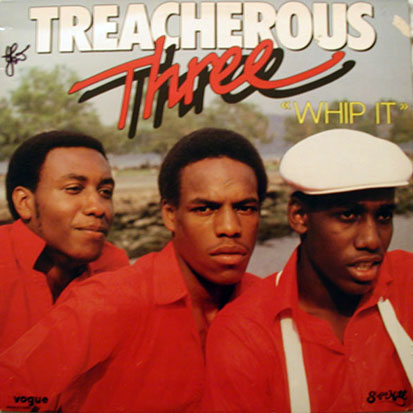 Treacherous Three
Whip It (Sugar Hill/Vogue France, 1983)
This album, from one of early rap's supreme groups, barely exists in history books. AllRovi doesn't know about it. It never came out in the States, and I might be convinced by now that I'd dreamt it if I didn't hang onto the copy I bought in a Frankfurt record store when it briefly appeared in 1983. Still sounds relentless, though, and as good-natured as any rap — almost any any — album ever has. The Treacherous Three were Special K, L.A. Sunshine, Kool Moe Dee, and DJ Easy Lee. You might remember Kool Moe Dee for the top-notch albums he made at the end of the '80s, or at least for the report card he put inside one of them where he graded rappers (Beastie Boys 70 C, Run-D.M.C. 82 B-, Kool Moe Dee 95 A+, ha ha.) Anyway, for a couple years there, the Treacherous Three could do no wrong; only problem with this album is that it showcases only six of their first eight singles, and 1980's "The New Rap Language" with Spoonie Gee — still one of the fastest raps ever — is missed. The opener is 1980's "The Body Rock," and the most important word in its title is "Rock," which means the same thing it would in "Rock Box" a couple years later. "Feel the Heartbeat" and "Whip It" flip their tricks over grooves from Taana Gardner and the Dazz Band, the latter with a soothing guest vocal (rap meets R&B, already!) from the Spinners' Phillipe Wynne. "At The Party" literally sounds like it's at one; "Action" is as wholesome an orgasm metaphor as you'll hear. But the masterpiece is "Yes We Can Can," which takes off from Lee Dorsey via the Pointer Sisters, laments the evils of stagflation and Reaganomics and racial inequality ("Eve of destruction, tax deduction, price inflation rocks the nation, unemployment's on the rise…") but gives B-boys some strong, strong-voiced, big-brother suggestions about how to weather it: Even if they want to join the Army to escape the ghetto where hoodlums with knives try to take their lives, see, they'll need that diploma to enlist. Bootstrap-rap, so scoff if you feel the need. But can they rock it from the east to the west? Yes yes yes, yes yes yes.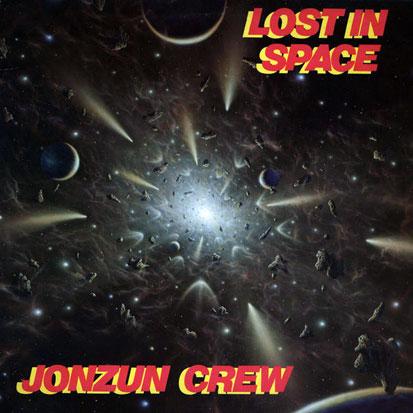 Jonzun Crew
Lost In Space (Tommy Boy, 1983)
Given the ubiquity of his Kraftwerk/YMO-inspired arcade-rap spaceship "Planet Rock" in 1982, not to mention his stature as a big-thinking conceptualist in general, it's perplexing that Afrika Bambaataa didn't manage a full album until 1986. By now there's plenty of retrospectives to get your Bam party started right. But in 1983, you would've just been happy that the British label 21 included two of his best singles on The Perfect Beat, an archetypal electro-hop sampler that also had a few by Planet Patrol and Jonzun Crew. Heck, those two entities' own albums weren't bad, either — Planet Patrol, masterminded by Arthur Baker and John Robie, were an interesting mishmash of Temptations rips, Gary Glitter and Todd Rundgren covers, proto-Latin freestyle beats, and shout-rapping á la Run-D.M.C. (who had put out their own first single in early 1983). As for Jonzun Crew, based in Boston and led by future Peter Wolf collaborator Michael Jonzun with major input from future New Edition/NKOTB svengali Maurice Starr, some at this point might dispute their inclusion in a rap survey at all. But in 1983, so-called "electro" had not yet split off from "rap" or "hip-hop"; they were all in the same tent. As for the robotics, they're clearly on a continuum leading from "Planet Rock" to Maggotron's early Miami bass. "Space Is The Place" and "Pack Jam" obviously owe debts to Sun Ra (thanked on the LP cover) and, well, Pac-Man. But "Electro Boogie Encounter" precedes apparent allusions to David Bowie's "Space Oddity" with astro-beats Newcleus seem to have swiped in "Jam On It" a year later, and the irresistibly goofballish "Space Cowboy" has actual rap bragging (aimed at "all the hip-hoppers") amidst its Morricone swipes and yodel-ay-hee-hoos.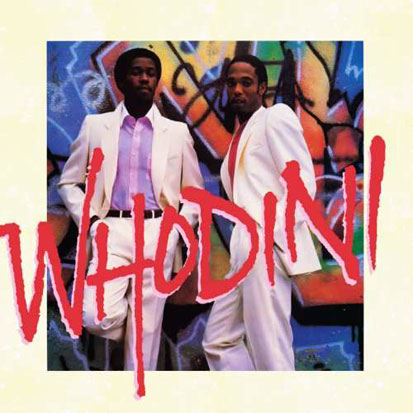 Whodini
Whodini (Zomba, 1983)
By the time Brooklyn duo-plus-DJ Whodini showed up on the scene, it seems hip-hop had pretty much staked its claim as global pop culture. Of course, the tug-of-war between mass commerce and urban authenticity was never fully decided — its tension is part of what's kept the genre vital in decades since — and the dichotomy was too simplistic in the first place. But in the case of Jalil Hutchins, Ecstasy (the cat in the Zorro hat), and Grandmaster Dee, none of that mattered. They made videos (the one for "Magic's Wand" is said to be rap's first ever); they worked with techno-pop dweeb Thomas Dolby (the "Blinded Me With Science" guy); they recorded in London and Cologne; and they hit with "Monster Mash"-style Halloween novelty record "Haunted House Of Rock." Note the song's title — calling it "Haunted House Of Rap" would limit crossover potential, and though its breakdance hooks are synthed not guitared, Wolfman Jack and the Grateful Dead provide party entertainment. "Rap Machine," perhaps inevitable after years of soul-radio sex and love and dancing machines, is partially rapped by an actual mechanical man — amusing in the video — even if humans prove victorious in the long run. And Dolby-produced debut shot "Magic's Wand" itself was made to promote sometime rap-moonlighting WBLS DJ Mr. Magic. "Rappin's always been around," Whodini tell us, "It's just that it's big time now." True on both counts. Though who knew then how big it would stay?